Team Digital has just taken delivery of an amazing new product €" Eye-Fi memory cards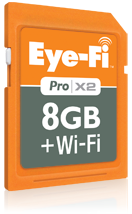 The Eye-fi acts as a wireless sender, allowing us to send images from your camera to a computer or laptop without the need for tethering or USB readers etc. We have been testing them for some two weeks now and haven't been able to fault them. A simple setup in the first instance (which Team Digital can assist you with) and then you're away.
We tested the Pro X2 8Gb card which we have, running through our network, ad hoc direct to a laptop and even direct to an Apple iPad all with no fuss at all. One possible down side with the cards, is that they are SD only. CF adaptors simply don't work with it. So SD cameras it is.

To give you some indication of the speed of the card we tested the Nikon D300 at Large JPEG and it took approx 15 sec to load into Adobe ® CS5 Bridge and the Pentax 645D large JPEG and for that matter the RAW file as well, took approx 50 sec.
If you want to see the Eye-Fi in action drop into Team Digital for a demo.