Team Digital are very pleased to be part of Light Fanastic 2011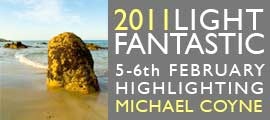 Now in its sixth year, Light Fantastic is one of WA's premier annual photography event. Master Photographers Dale Neill and Nick Melidonis have again brought together leading industry professionals and gifted amateurs to present inspirational images, cutting-edge technology and original ideas.
One of the world's leading photojournalists, Michael Coyne, will be our keynote speaker. Based in Hong Kong, Michael has authored more than twenty books and is internationally recognised for his photojournalism.
This year's highlights include:
How to capture breathtaking macro and abstract images with Tony Hopkins
Nick Melidonis shares his amazing journey through iconic Cambodia. He reveals his techniques for capturing the charismatic monks and the stunning temples of Ankor
Apple's iPad: a Light and Fantastic travel companion
Publishing your own book with photo-historian John Dowson
How to set up your own studio with Vic Natoli
Roger Garwood on the stories behind the signature images from his many books
Using the new Gigapan panorama maker with Nick Melidonis
How to develop your own signature style and simple, creative flash techniques with Dale Neill
For more information click here