Epson never a company to sit back a rest on it laurels, have just released the Epson Stylus Photo R3000 A3+ printer.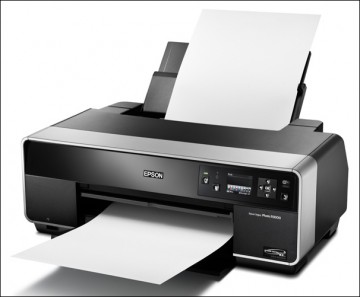 The R3000 boasts a number of new features including
Exclusive AccuPhoto : HD2 Image Technology AccuPhoto HD2 provides precision placement of each individual ink droplet, resulting in remarkably fine blends, consistent color and extremely accurate highlight and shadow details.
Auto-Switching Matte and Photo Black Inks : The Epson Stylus Photo R3000 automatically switches between two different black ink modes €" Photo Black or Matte Black €" to optimize black ink density on both traditional
Unparalleled Connectivity : The Epson Stylus Photo R3000 is equipped with Hi-Speed USB 2.0, Ethernet and Wireless-N.
Epson Intelligent, High-Capacity Ink System : Epson professional printers use an intelligent ink system that offers greater efficiency and performance. Utilizing nine high-capacity 25.9 ml ink cartridges, the Epson Stylus Photo R3000 reliably delivers ink at all print speeds, print after print. In addition, Epson
technology allows for quick and easy on-the-fly ink cartridge replacement for increased productivity.
Much of the advanced technology found on Epson professional printers has been integrated into the Epson Stylus Photo R3000,making it the first A3 + wide printer with this level of built-in features. Did we mention it has a 2 Picolitre dot thats small.
Well we cant wait to get our hands on the R3000 , we'll keep you informed on its arrival.