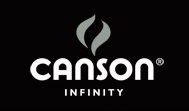 Canson has long been regarded as a premium print media, but with a price tag to match, which has deterred many customers from using this top class product on a regular basis. Recent price positioning in Australia, means that customers can now enjoy the stunning results that can be achieved with Canson Fine art materials without blowing the budget. Team Digital has expanded its Canson stocks to include the full range of Canson New Infinity media with its different textures and levels of whiteness. One of our favorites is the BFK Rives, an outstanding matt semi textured media that adds real depth to the image. There is also the Canson Baryta, a stunning semi-gloss fine art media and the new Canson HD Canvas, a low cost white canvas to round out the range.
Canson Edition Etching Rag is a 100% cotton Fine Art paper with a smooth texture, reminiscent of the original genuine etching and printmaking papers. The paper has the purest white tone available on the market, without any Optical Brightening Agents, also called OBAs.
The world's number one mould-made traditional printmaking paper, with more than 500 years of history and heritage is now available within the Canson Infinity Digital Fine Art & Photo Portfolio. B F K Rives has a unique pure white tone obtained without the use of OBAs and a very specific smooth and velvety texture.
Rag Photographique is a 100% cotton museum grade white Fine Art and photo paper. The exceptional smooth white tone is achieved during manufacturing by introducing natural minerals to the process. It has been developed to address the need for continued longevity requirements in the Digital Fine Art market.
Rag Photographique offers a unique extra smooth surface with a sensual feel. It also provides one of the highest achievable Dmax currently available on the market, making it ideal for fine art photography as well as fine art printmaking.
Platine Fibre Rag is the combination of the premium 100% cotton Platinum paper that Canson has supplied for many years to the original Platinum and Platine photographic market, with the latest microporous coating, making the traditional darkroom paper now available for your digital printing.
Setting the benchmark for Digital Darkroom papers, Platine Fibre Rag provides the aesthetic and feel of the original F-Type Baryta Fibre paper, having a true pure white tone without using optical brighteners that are known to affect the longevity of digitally produced images.
Platine Fibre Rag's extremely high Dmax and exceptional grey tones make it the product of choice for the more discerning black and white as well as colour photographic prints.
Baryta Photographique is a true Baryta paper developed for inkjet technology. It consists of an alpha-cellulose, acid-free pure white paper with the same barium sulphate coating as for traditional silver halide and a premium inkjet colour receiver layer.
Baryta Photographique offers the look and aesthetic of the original darkroom baryta print and complies with the ISO 9706 standard for maximum longevity.
The world's Number One mould-made watercolour paper is now available for the Digital Fine Art market.
This genuine 100% rag, watercolour paper possesses the unique structure, surface texture and warm white tone that demanding artists expect from a traditional Fine Art paper. This paper complies with the highest archival standards and is extremely age resistant.
Arches ® Aquarelle Rag gives a unique and unrivalled character to the Fine Art reproduction of traditional artwork and photographs.
Photo HighGloss Premium RC consists of an ultra-smooth, alpha-cellulose, acid-free paper coated with polyethylene and multiple microporous colour receiver layers.
This ultra-white photo paper currently has the highest gloss level of the photographic resin-coated paper market. This paper offers vivid colours and deep blacks, coupled with excellent image sharpness, with a resolution of up to 5760 dpi.
A4 Canson Discovery Pack which has 1 of each of 12 different media types $ 22.90
Ask one of our printing experts for a super price on Cansons New HD Canvas