Yesterday the team had training on the newest version of the EasyPIX package, which now makes hardware calibration on Eizo Flexscan range of monitors possible. This makes calibrating your monitor even easier and more accurate than before. This software is a very simple monitor calibration process made by Eizo which uses the "EX-1" device (a slightly modified Spyder3.) And at just under $200.00 it a must when purchasing a Eizo Flexscan series monitor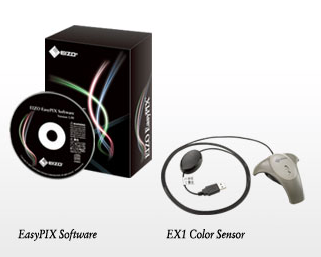 This system is available for the following monitors
S2433W 24″ 1920 x 1200 10Bit $1721.00
SX2262W 22″ 1920 x 1200 16Bit $1545.00
SX2462W 24″ 1920 x 1200 16Bit $2090.00
SX2762W 27″ 2560 x 1440 16bit $2695.00
Add this to the industry standard ColorEdge CG series, EIZO has all your monitor colour management needs covered.
We are getting our resident "Video Guy" Jared to do a video on this new calibration system so stay tuned.
If you have any question regarding this or anything to do Eizo monitors contact one of Team Digitals Eizo experts.