Image quality, this in our opinion is the most important aspect of a printer. We have covered the running costs and function of the Epson R3000 in a previous review. Now we are discussing why we believe it is the best print in its segment ( A3+ Desktop )
Firstly lets look at the colour gamut we have a few examples gamut maps below. It is important to point out at this stage that we have used canned profiles from Ilford and Canson . The reason for this, is that we have independent profiles from the printers we sample on the same media. While we write profiles we wanted to make sure that this test was as independent as possible.
The Epson R3000 is the wire frame and the Canon 9500MkII is the coloured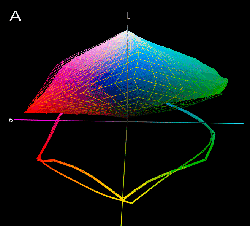 Now th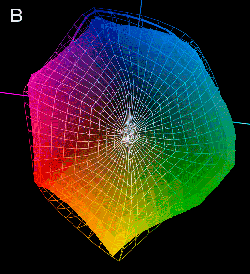 e Gamut maps themselves first we compare the Epson R3000 and the Canon 9500MkII with a Ilford Smooth Pearl profile. We can see from the map that the R3000 has an over all larger gamut. Although we can see a little more out of Canon 9500 in the greens, but the R3000 has greater gamut in the red through to yellow and certainly an improvement in aqua's to the blues.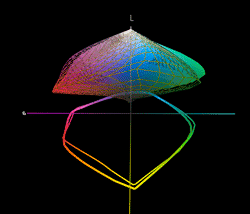 The next comparison is with the Canon and the R3000 on Canson BFK media. It represents a smaller gamut due to the type of media. The two printers are a lot closer on this media although the red through to yellow are still greater on the R3000 and the green tone advantage that the Canon has is reduced considerably.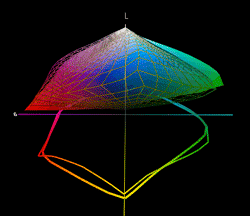 The last media type is the one of the best we have seen full stop, but thats is another post,we are referring to the Canson Platine media. We can see that the R3000 has a considerable advantage in the aqua's, blues and magenta's, also through the yellows and oranges. The Canon still has a slight advantage in the greens.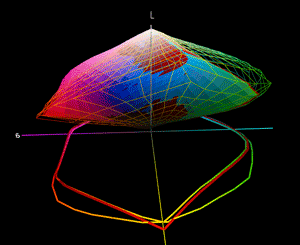 The last comparison is between the Epson Pro 4900 ( Wireframe ) Epson Pro 3880 ( Red ) and the Epson R3000 ( Multicolour ). There is no surprise that the Epson Pro 4900 wins hands down with that beautiful HDR ink set. The 3880 and R3000 are very similar and they should as they share the same ink set K3 Vivid Magenta ink set.
So from a gamut point of view the Epson R3000 is as good if not better than its competitors.
We would also consider that the 2 Picolitre dot size has some bearing on the over all quality when you compare it to the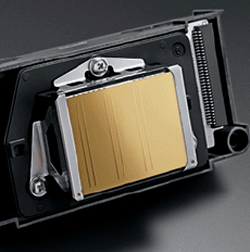 Canon 9500MkII at 3.0
Epson Pro 3880 3.5
Epson Pro 4900 3.5
Epson have also introduced some time ago A ink repelling coating for the Micro Piezo print head. This simply means Epson can put down a more accurate dot, which adds up to a better quality image.
If you want to see the quality of the prints produced by the Epson R3000 call in to Team Digital and we'd be happy to show you how good they are.