At the start we must say that we are very impressed with the Leadpower LP-750, as far as being a great universal portable power source. What the LP-750 isn't is a replacement for the Elinchrom Ranger systems. It doesn't offer the same functionality that these dedicated systems offer.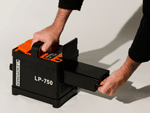 That being said we believe it does solve a lot of problems, that Photographers have when working on location. The obvious advantage is that it can power and number of different devices, from laptops through to wind machines. The correct term for the LP-750 system is a Portable Power Inverter, it has a continuous output 750W and peaks at 1400W . The rechargeable battery is a 9000mA NI-MH which is rated for around 500 recharges. The battery is removable so it is easy to replace, which also means that you can get more batteries if you need more capacity. It simply a matter of replacing them, as you run the batteries down. The batteries can also be charged independently, the kit comes complete with AC charger and a DC charger making it possible to charge the batteries from a car connection.
Its portable and compact weighing in at just under 6 kg and unit itself measures 25cm x 17cm x 25cm. A handy waterproof carry case comes complete with the kit. The fact that you have 3 outlets available also make it possible to run or charge multiple devices at the same time. The unit is safe and reliable and is protected against overload, short circuit, high voltage input or power surge, overheating and inverse external connection. The robust engineered casing protects both the user and the components from harm.
Our results were not as good as some of the figures quoted on the web. We could put this down to the fact that the unit we tested was a demonstration kit. We could not guarantee how the LP-750 or battery had been treated during this demonstration period. Taking all this into account we were still more than impressed with what we managed to get out of the unit. We will run a new series of tests as soon we get our LP-750 in stock. So please consider these figures a worst case scenario. We are expecting stock to arrive late August. Team Digital will also be putting one into our hire/rental list as soon as stock arrives.
Charging from a completely depleted state takes approximately 4 hours… we repeated this more than 8 times during the testing . And it was consistently taking 4 hours each charge. Some sites have been quoting longer recharge times, but we didn't encounter this at all.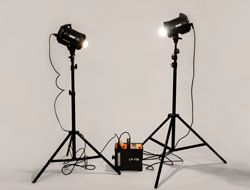 We then moved on to the flash side of of things. We tested the unit on our Elinchrom BXR500 and some Bowens Gemini 500 heads. Again this was quite consistent we achieved just over 290 500ws flash. The recycle time varied slightly, the BXR500 were aprox 2 sec and Gemini's were more around the 3 sec mark. We also noted that when you got over 250 flashes the recycle time increased dramatically to 8 sec and for the last 20 flashes it was 16 sec . We would have no problem in saying the LP750 is good for at least 250 500ws flashes with a single flash head. The other point that we would make at this time is, that most of those flash were done consecutively which wouldn't necessary be the way you would use it in a normal shooting environment.
With two flash heads ( Elinchrom BXR500 ) with modelling lamps on we achieved a consistent 150 500ws flashes. Im sorry we ran out of time to test a three head kit. Again we will run that test in August.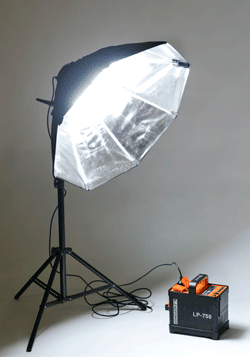 From a constant lighting point of view we ran the Premier Softbox kit which has 9 x 28W Fluro globes. We were a little disappointed with the results on this test, we only achieved aprox 35 min of full power. We will run this test again with a new unit.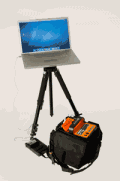 Computer wise we ran all our test on a MacBook Pro 17″ which was able to charged in just under two hours, this was from no lights on the battery indicator to a full five lights and 100% charge showing on the computer. At the same time we were able to charge a Canon 1Dmk3 battery and still have 2 of the 3 power indicators on the LP-750 showing . So we could safely say that we can get a least 2 full laptop charges out of a battery , but more than likely 3.
Based upon the above tests we believe the LeadPower LP-750 would be a great asset in a location kit. From a price point of view it represents great value at $ 799.00 inc GST for a full kit including battery, chargers and carry case. And it is very simple to replace the battery if you need more capacity, spare batteries are only $ 199.00 inc GST.
If you want more information or just want to place order give us a call or fill the form below.
Error: Contact form not found.