Fusion Seminar with Michael Fletcher
Team Digital is very pleased to present the Just for Canon €œFusion First-steps € seminar presented by Michael Fletcher — one half of the team that won the AIPP Fusion Photographer of the year 2011. Michael will give you an insight into how he has created such a stunning body of work. What he's been able to achieve using the DSLR Video format is a must see. Please click on the link below to see some of those works.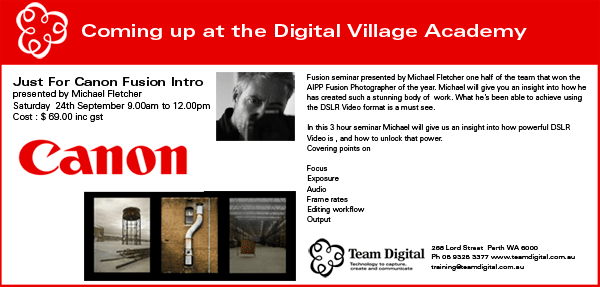 In this 3 hour seminar Michael will give us an insight into how powerful DSLR Video is, and how to unlock that power.
Focus
Exposure
Audio
Frame rates
Editing workflow
Output
Saturday 24th of September 9:00am to 12:00pm $69.00 per head
Held at Team Digital 268 Lord Street Perth
[contact-form-7 404 "Not Found"]