Team Digital is very pleased to announce the Golden Shopping Trolley Awards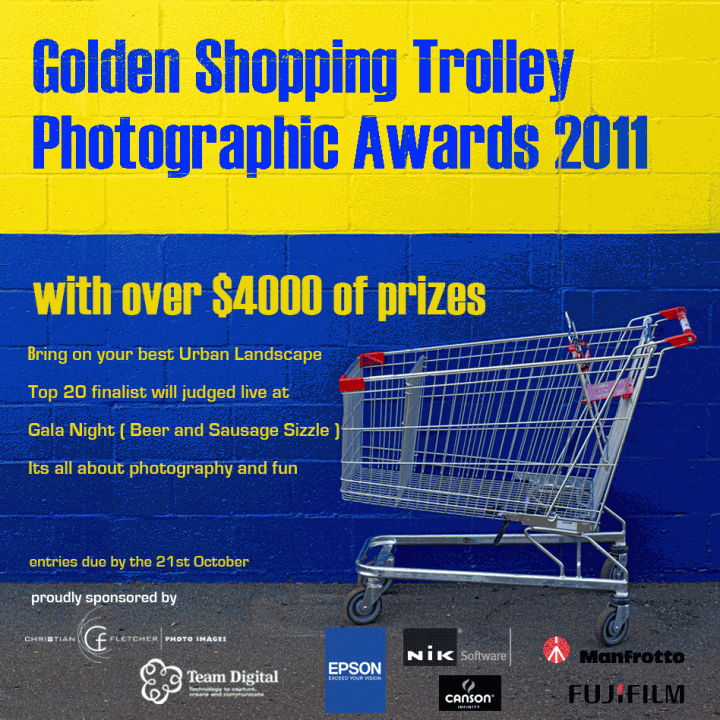 This has been in the making for some time. The awards themselves come from discussions with Christian Fletcher — basically, how to have a competition and have a lot fun doing it.
The theme is Urban Landscape or "Landscapes that have been touched by man." I'm sure you will all agree that this gives you a lot scope to come up with something out of the square.
We wanted to make this competition different, not only from the subject point of view but also the way it is judged. We have came up with the idea of having the top 20 images judged live at Gala Evening (Beer and Sausage Sizzle at Team) held on the 29th of October starting at 6.00pm, so you can come along and hear what the judges have to say about the images. Also the 20 finalist will be printed on Epson of course. On the night we will have screens displaying all the entries.
We also have some very esteemed Trolley Handlers (judges) in Christian Fletcher and Tony Hewitt. Certainly Australia's leading exponents of what is the Urban Landscape .
What could be better than that? how about a whole swag of prizes? over $ 4000.00 worth
1st Prize is shiny new Epson Pro 3880 A2 printer valued at $ 2195.00
2nd Prize is a superlight weight Manfrotto Carbon Fibre Tripod 055CXPro4 valued at $ 795.00
3rd Prize is the Complete Collection of NiK Software valued at $ 699.00
But wait there's more. We have two other sections :
The first is the X-100 Award which basically is the best Urban landscape shot on the amazing Fuji X-100. This is a mounted Fujiflex print up to 60 x 90 cm valued at $ 550.00.
The second is the best Urban Landscape image that contains a shopping trolley. Canson have sponsored this section with a $ 250 media pack.
Cost of entry $ 25.00 which allows you to enter 4 images and this includes a ticket to the gala evening.
You can put your entries in here.