New compact Wireless transfer unit

Wireless File Transmitter WFT-E6/WFT-E6A, The new Wi-Fi transmitter incorporates all the operating modes of existing WFT transmitters such as FTP, EOS Utility and WFT Server modes, multiple-camera trigger synchronization, compatibility with Bluetooth GPS modules and more. It's also the first such accessory from Canon to support the faster 802.11n wireless networking protocol, in addition to 802.11a/b/g. It does not have an Ethernet or USB port, and is considerably smaller than the already-small WFT-E2 II/WFT-E2 II A.
Weve been waiting for a good Canon GPS solution the wait is over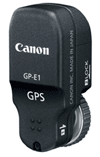 GPS Receiver GP-E1 The new GP-E1 gathers latitude, longitude, altitude as well as UTC time and includes an electronic compass that can properly indicate camera direction whether the EOS-1D X is held horizontally or vertically. Location information passed from the GP-E1 to the camera is then embedded into picture files as they're shot. Like the WFT-E6/WFT-E6A, the GP-E1 is small.