Canon's top-end model of professional digital SLR camera "EOS-1D X" launched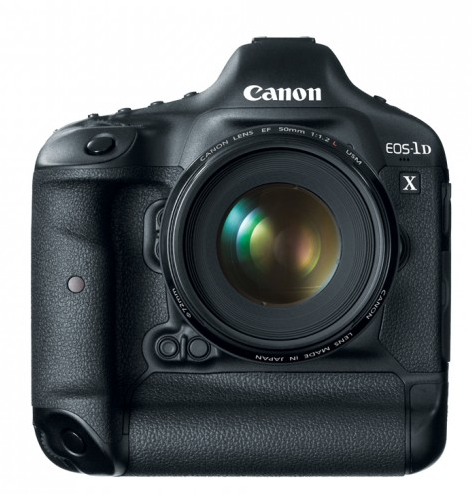 Features
Autofocus (AF) continuous shooting at 12 fps (14 fps with mirror lock-up)
Full-Frame 18.1MP CMOS sensor with large pixel size and gapless microlens technology
ISO range 100-51200 (L:50; H2: 204800) and low noise for high quality in all lighting conditions, including near-dark
FULL High Definition movie recording, video industry standards compliance (ALL-I, IPB)
Dual DiG!C 5+ image processors for high-speed processing and noise reduction
New AF system features 61 AF points (41 cross points) for precise focussing accuracy
Unique Auto Exposure (AE) metering uses RGB colour and face recognition for enhanced subject tracking
Canon, sports and media, digital SLR cameras with a high level of performance required for professional shooting studio shot, such as "EOS-1D X", and released in late March 2012.
Traditionally, top model in Canon's digital SLR cameras, especially with better image quality "1Ds" the best performance and high-speed series "1D" was deployed in two lines of the series. New product "EOS-1D X" to unify them is the flagship model that combines the highest level of professional performance and high-quality high-speed performance.
– Outstanding image quality
The EOS-1D X incorporates an all-new 35-mm Full-Frame CMOS sensor enabling both a large pixel size of 6.95 microns and 18.1-megapixel image resolution. Canon's gapless microlens technology ensures that light is delivered more efficiently to the light diodes, while Dual DiG!C 5+ Imaging Processors ensure low noise and high-speed processing. Standard ISO settings of 100-51200 (expandable L: 50; H1: 102400; H2: 204800) contribute to achieving unparalleled low-light shooting possibilities — including near-dark situations — with low image noise.
High Speed Shooting
The new flagship professional EOS enables image capture never before possible, delivering 12-fps continuous AF shooting. Super High Speed mode enables continuous shooting 14-fps with the mirror locked up, ideal for fixed-focus shooting and capturing motion trails. The EOS-1D X has also achieved the world's fastest*1 shutter release lag — as short as just 36 milliseconds — to ensure instantaneous first response.
An all-new AF system delivers better subject tracking and precise focus accuracy than conventional systems. The new system features a 61 point AF sensor for wide, high-density coverage to enable photographers greater freedom to compose their shots as well as enhanced subject tracking. Up to 41 cross-type points (depending on lens used) means enhanced focus in situations such as subjects with stripes or in low-contrast situations.
HD Video
Only Canon EOS offers Full HD (1920×1080: 24/25 fps) movie-making in a professional-grade DSLR camera, and the new EOS-1D X features refinements to enhance the quality and utility for professional purposes. Processing and CMOS sensor upgrades have enabled enhanced movie recording performance, including a reduction in moiré and false colour. Moreover, the camera achieves an expanded movie ISO range of 100-25600 (H:51200; H1:102400; H2:204800) for high sensitivity and exceptional low-light performance. Assisting continuity of shooting, the camera automatically segments files every 4GB of recorded content.
Enabling best quality editing results, the camera supports the ALL-I compression format, as well as high-quality, high-compression IPB format. Audio recording is manually adjustable both before and during shooting.
Class Leading Build Quality
The EOS-1D X takes the renowned build quality of the EOS 1-series to the next level for even greater reliability under heavy shooting or extreme environmental conditions. To meet professional field requirements, shutter durability of 400,000 cycles combines with the lightweight, heavy-duty magnesium-alloy chassis and superior dust and moisture seals at 76 locations.
Internally, the camera features a new €œcarrier wave € type self-cleaning sensor unit, which effectively removes extremely light weight dust particles that may be visible near the minimum aperture (f/22 or higher). A new System Status Display also keeps users up to date with performance and service-related information such as shutter count.
There is more info to come stay tuned.
And yes we are taking pre orders now.