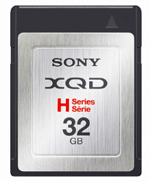 Nikon D4 First Camera to Support XQD Memory.

XQD is based on PCI Express, and can deliver real-world transfer speeds in upwards of 125 megabytes per second, an improvement of 25 percent over the current top-end CF cards. The interface is scalable, with the PCI Express bus currently supporting speeds of 300 megabytes per second; future revisions are set to support 600 megabytes per second.
Sony is said to be shipping XQD cards next month. Nikon are claiming , the cards will be able to write up to 100 Raw frames with the D4 in continuous shooting mode before the camera will start to slow down.