Nikon have just announced the stunning new Nikon D4.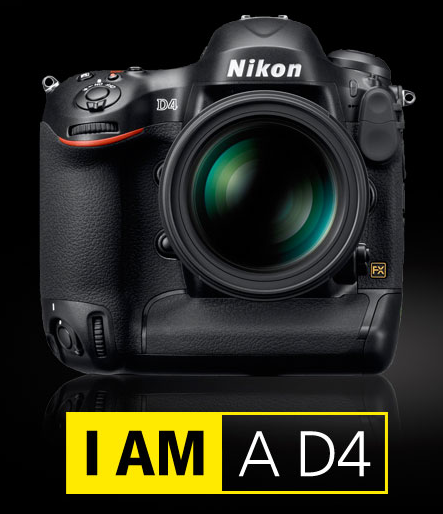 Which features the following
• 16.16 million image pixel, 36 x 23.9mm (FX Format) self-cleaning CMOS image sensor. ( 4928 x 3280 pixels )
• HD video capture at resolutions up to 1080p/29.97fps and, a first in a Nikon digital SLR, 720p/59.94fps.
• A headphone jack enables live audio monitoring, uncompressed video can be exported through the HDMI port for transcoding by an external recorder and both the rear LCD and an HDMI-connected external monitor can display simultaneously.
• 10fps shooting rate
• A standard ISO range of 100-12,800 in 1/3 step increments, with an extended ISO range down to ISO 50 to an amazing ISO 204,800

• New shutter mechanism with a durability rating of 400,000 cycles
• A startup time of 0.12s and a shutter lag of 42ms
• the new 51-point Multi-CAM 3500FX AF system plus a new AF sensor module is 20% more light-sensitive than the AF sensor in the D3S. Which will improve low light focusing.
• 16-bit EXPEED 3 image processor which is some 30% faster than EXPEED 2 in the D3S
• HD video capture at resolutions up to 1080p/29.97fps and, for the first time in a Nikon digital SLR, 720p/59.94fps. A headphone jack enables live audio monitoring, uncompressed video can be exported through the HDMI port for transcoding by an external recorder and both the rear LCD and an HDMI-connected external monitor can display simultaneously. The D4 represents the company's most serious attempt to date to woo filmmakers to Nikon
• 3.2-inch LCD with tempered cover glass and optional automatic brightness adjustment
Down load the 6 page PDF click here Nikon D4
Get your orders in early. If you would like more information fill out the inquiry form below
[contact-form-7 404 "Not Found"]