For a limited time so get in quick.Team Digital now has some great prices on the Black Rapid Range of camera straps, so get in quick.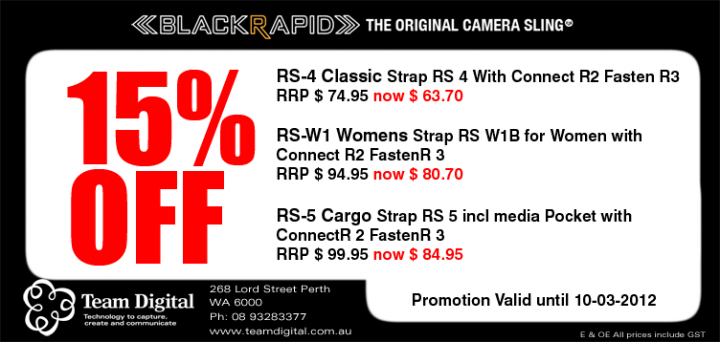 RS-4's smart design is lightweight and low profile. It features a quick access, secure pocket for storing two extra memory cards in their protective cases. Like all R-Straps, the RS-4 is incredibly comfortable and quick on the draw.
RS-W1 is BlackRapid's introduction to designing a camera strap specifically for women. Part of the award winning R-Strap line, the RS-W1 is the world's first camera strap that focuses on the perfect fit for the female.
RS-5 is a brilliant companion for those who require extra storage. It combines zippered pockets with a phone compartment roomy enough to accommodate even larger smart phones. A magnetic clasp opens silently for noise-sensitive situations.
If you haven't seen the straps before here's a video to show you how to use them.
R-Strap – How To from Matteo Bava on Vimeo.