Just for Canon DSLR workshop with Nick Melidonis
13th March 6.00 to 8.00pm
At the Team Digital

And remember if you purchase a Canon DSLR from Team Digital between February and March the you can attend the course for free. Canon 5DmkII start from $2600.00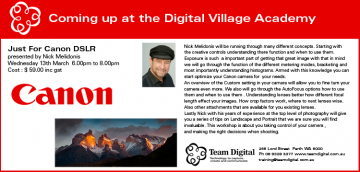 Firstly this is about you and your Canon DSLR camera so it is important to bring your camera along, so you can get to know each other a whole lot better. Nick Melidonis will be running through many different concepts.
Starting with the creative controls understanding there function and when to use them. Exposure is such a important part of getting that great image with that in mind we will go through the function of the different metering modes, bracketing and most importantly understanding histograms. Armed with this knowledge you can start optimize your Canon camera for your needs.
An overview of the Custom setting in your camera will allow you to fine turn your camera even more. We also will go through the AutoFocus options how to use them and when to use them .
Understanding lenses better how different focal length effect your images. How crop factors work, where to next lenses wise. Also other attachments that are available for you existing lenses.
Lastly Nick with his years of experience at the top level of photography will give you a series of tips on Landscape and Portrait that we are sure you will find invaluable.
This workshop is about you taking control of your camera , and making the right decisions when shooting.
Error: Contact form not found.