Canon Australia have had a price drop on their range of DSLR's. Which mean big savings for you. Plus don't forget if you purchase a Canon SLR from Team Digital between now and 13th March you can attend a free 2 hour workshop.(details below) Plus you will receive $100.00 hire voucher from Team Digital.
All with full Canon Australia Warranty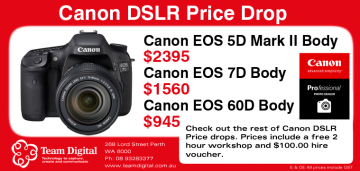 Heres just some of the great new pricing.
5D MkII Body Only now $2395
5D MkII with 24-105mm now $3350
7D Body Only now $1560
7D with 15–85mm now $2380
60D Body only now $949
60D with 18-200mm now $1529