This Discovery pack is a good introduction to the complete range of inkjet papers made by the French paper giant Canson, to help you choose the most suitable paper to fully express your image we have now included a sheet of each type. All the generic profiles are available for many printer makes on the Canson website
Dont forget you could win a trip to France just buy printing on Canson media. See link for details.
The Canson Infinity Discovery Pack includes 11 A4 sheets :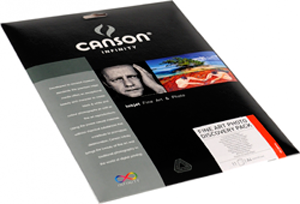 1 Sheet Platine Fibre Rag 310gsm
1 Sheet Baryta Photographique 310 gsm
1 Sheet Photo HighGloss Premium RC 315gsm
1 Sheet PhotoGloss Premium RC 270gsm
1 Sheet PhotoSatin Premium RC 270gsm
1 Sheet Rag Photographique 310gsm
1 Sheet Rag Photographique 210gsm
1 Sheet Rag Photographique Duo 220gsm
1 sheet Sheet Edition Etching Rag 310gsm
1 Sheet BFK Rives 310gsm
1 Sheet PhotoArt HD Canvas 400gsm
Plus a special bonus Canson Visual Journal valued at $ 9.95
All for $27.00 or $ 23.40 if you are Student , Camera Club member or AIPP member.