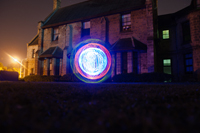 Last night the FotoFreo 2012 workshop program started… and what a start it was, with all of us mesmerised by €œLight Trail Photography: Something a little different. €
This hands-on course was presented by Stephen Humpleby and David Savage. Stephen brought along all the different lighting rigs he has been developing over the years, and proceeded to light up the grounds of the Fremantle Art Centre like they had never been lit before! Here's a small sample:
We're sure that everyone who attended will be running off to their nearest hardware store or $2 shop to make their own rigs and start playing. Our thanks go to Stephen and David for what could only be described as a "Light art performance" – thanks guys!
Our thanks also go to Kata Bags, who sponsored this event.
Don't forget to check out the rest of the workshop program – there are still some places left. Click here to see the program
Lastly, to all the people who attended last nights course, we hope you had a fun & informative evening.