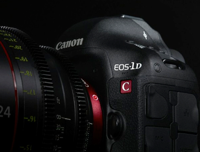 Canon today announces the introduction of the new EOS-1D C, a digital single-lens reflex (SLR) camera targeting the motion picture, television and high-resolution production industries. Delivering outstanding video quality, advanced low light performance and film-like dynamic range, the compact and lightweight EOS-1D C supports in-camera 4K (4,096 x 2,160) video recording with 4:2:2 colour sampling, offering greater creative freedom for video professionals.
The first SLR camera of its kind, the EOS-1D C offers a unique and highly portable package optimised for high-quality video recording. Advanced creative flexibility is provided with support for a range of resolutions and variable frame rates. 4K video is recorded using 8-bit Motion JPEG compression at 24p, and Full HD (1920 x 1080) video capture is available at frame rates up to 1080/60p. The camera supports internal recording to CF cards at all resolutions up to and including 4K, offering enhanced mobility. Video can also be output to external recorders1 via an integrated HDMI terminal using an uncompressed YCbCr 4:2:2 signal.
Canon EOS-1D C — key features:
4k movies
1080p at 50/60fps; Canon Log Gamma
Uncompressed HDMI output
18 MP Full Frame CMOS
Up to 12fps stills; 14fps mode
61 point AF system
ISO range 100-25600
Dual DIGIC 5+ processors
Clear View II 8.1cm (3.2″) LCD
EF lens compatible
As part of the EOS system, the EOS-1D C is compatible with more than 60 EF lenses, all of which offer high resolutions to support 4K image capture. The EF lens series offers exceptional creative freedom, with focal length options ranging from 8mm to 800mm. Over 70 million EF lenses have been manufactured since the EOS system launched in 1987 — a measure of its unparalleled quality and popularity. As part of the Cinema EOS System, Canon has also introduced a range of 4K EF Cinema Lenses, utilising the company's unique optical heritage to produce leading-quality lenses optimised for high-quality video capture.