We took delivery of the new Wacom Intuos5 almost a month ago, and it look like Wacom have produced another winner
We managed to keep one small for demonstration purposes. And got to have a play on it over the past few weekend. The pen touch feature is great which is a first for the Intuos range. Lets talk about the touch function first. First thing we noticed is how responsive it is. Then when dig deeper into the touch function in the menu wow. We have all our standard gestures available to us on our Apple OS, and now we have programmable gestures that right programmable and better still they can specific gesture for each application. Heres an example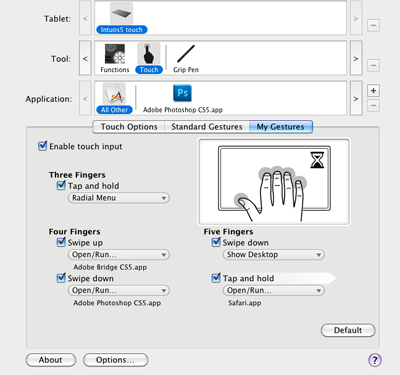 This is the Wacom Intuos Preference box
We have programmed a series of gestures for our standard applications
Three finger tap and hold get us to the Radial Menu
A really powerful tool
Four finger swipe up opens Adobe Bridge
Four finger swipe down opens Adobe Photoshop
Five finger swipe down show us the desktop
Five finger tap and hold open Safari
Pretty clever , but wait theirs more !
We can make up Application Specific gestures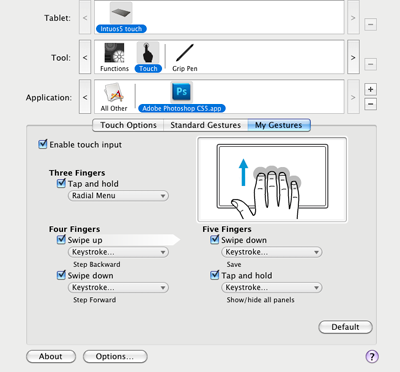 Heres our Adode Photoshop gestures
Three finger tap and hold get us to the Radial Menu

Four finger swipe up is undo ( control Z )
Four finger swipe down is redo ( control Z )
Five finger swipe down is save ( control S )
Five finger tap and hold is hide and show all panels
While the gesture function is great we would think that any power user would still use the pen. The Touch is really good for
All the Express Keys can customised as before.
Dont forget to check out our Free Wacom seminar click here for details