At "The Digital Show" Epson released a product that will surely change the way we look at traditional minilabs.
The first thing that you notice about the Surelab D3000 is the image quality, it produces simply beautiful prints the best we have seen. This is due to the new Epson UltraChrome D6 dye ink and image processing technology. This ink-set allows us to achieve a colour gamut that exceeds that of traditional silver halide.
The Second thing is how versatile the unit is, it can print on glossy, matte, and lustre finish paper and print from 10×15 cm up to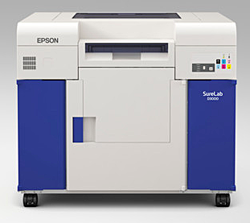 1.2m panoramics. Which means it doesn't only produce photo quality prints on a Gloss and Lustre media. It can produce greeting cards, invitations, flyers, and promotional leaflets on matt media which turns the unit into a true print shop.
The third is the environmental impact, the power-efficient SL-D3000 uses much less energy than a wet lab, and does not need a water supply, air filter or chemicals, reducing impact on the environment and the total cost of ownership. Further lowering the cost per print, the printhead and LUT are carefully configured to use ink economically while maintaining the best print quality.
The third thing is it foot print it is very compact in comparison to other labs on the market. The SL-D3000 is on wheels and can be positioned in a corner to save space, as it is operated from two adjacent sides.
Heres a little video from Drupa that will give an insight into the capabilities of this new Epson system.
This product looks like being a real game changer, if you want more information and samples prints fill in the form below.
[contact-form-7 404 "Not Found"]