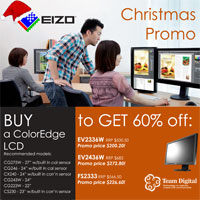 EIZO have come up with a great promotion for this Christmas that gets you into not one great EIZO monitor, but two!
When you purchase the best colour monitor available, the EIZO Colour Edge series, you can get a second Flexscan monitor for 60% off, which after discount start from $200.
Once you start to use a second monitor setup, you won't go back – we know, we speak from experience. The ability to have a completely clean work area for Photoshop and have all your pallets in easy reach on a second monitor is a joy. If you like, you can also have your email program open along with Facebook, or any program you need to keep up with this busy world we all live in.
And if you are running out of desk real estate, you can mount the second monitor on an arm or have it setup for portrait rather than landscape view.
When you get an EIZO monitor from Team you are buying from the experts that live and breath colour management.