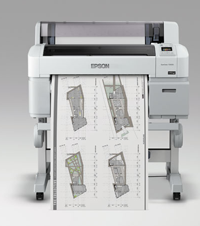 Team Digital has taken delivery of the Epson Surecolor T3000. The T3000 has designed for technical printing market. So if you are an architect, engineer or GIS professionals you should check out Epsons latest offering heres some of the key features.
Efficient: 28 secs for A1 print on plain paper
Economical: Choice of cartridge sizes ( up to 700ml best economy in it's class )
Easy to use: Operated from the front
Easy to install: Simple to set-up
High-quality: 0.018mm minimum line width
Heres some more details
The T series comes in three configurations. T3000, T5000 and T7000 feature maximum print widths of 24, 36, and 44-inches respectively with minimal floor space requirements to fit virtually anywhere.
Epson UltraChrome XD Ink:Â An all-new Epson pigmented ink delivers brilliant color and crisp lines on virtually any paper type, as well as truly archival and extremely smudge and water-resistant output.
Varied Ink Capacities:Â To maximize efficiency and keep printing costs low, each of the five colors – Cyan, Magenta, Yellow, Photo Black, and Matte Black – are available in 110 ml, 350 ml and a large capacity 700 ml capacity, which can be used interchangeably to accommodate a range of printing needs. All cartridges are front-loading for easy access.
Epson MicroPiezo TFP Print Head: Offers high-performance and consistency for precise plotting with highly accurate line placement and minimum line widths as thin as 0.018 mm, along with an extremely robust design that will produce consistent quality print after print.
Control Panel:Â Full color LCD panel with simple button layout provides quick access to printer features and controls, as well as an intuitive help system for most frequent tasks.
With the  latest in printing technology, the Epson SureColor T-Series delivers extreme line accuracy with resolutions up to 2880 x 1440 dpi at some of the fastest speeds in its class – producing a presentation quality D-size plot in as little as 25 seconds and up to 110 per hour. Its economical best in class, easy to setup and easy to use what more could you want from a high end colour plotter . Plus there is the support of the Team Digital behind every printer.

Come in and check it out for yourself.