Team Digital is now stocking this exciting product the iPad Movie Mount.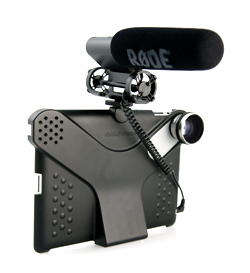 The iPad is the only video camera in the world with built-in editing and upload. The Movie Mount is a unique piece of hardware which allows you to radically improve video capture with the iPad. The Movie mount allows us to
Use 37 mm conversion lenses, such as wide angle and tele, for optical results
Attached a tripod for stable shots, pan & tilt camera movements. via a standard 1/4 screw thread.
Use shotgun microphones for better sound (requires splitter cable). Improves audio output
Use a video light for better performance in low light.
Easier iMovie editing, with a 9 degrees working angle.
The mount allows your iPad to stand upright and be used as monitor.
The free Movie Mount iPad app allows you to manually control video recording. For more control you can download a number of other apps.
The Movie Mount now allows us to Capture, Edit, and Post all in one device.
What people saying about Movie Mount.
"Its been a great tool for teaching introductory videography and editing skills to our students."
"The iPad Movie Mount has been a great coaches assistant. Being able to setup the iPad on a tripod and change the lens has meant getting good usable footage is so much easier.  The biggest plus has been being able to show that footage to our student on the iPads high res large screen straight away."
Here a video from Team TV on the iPad Movie Mount.

iPad Movie Mount from Team Digital on Vimeo.