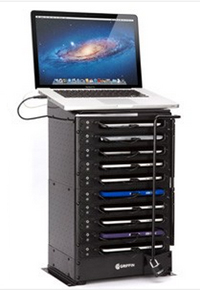 The Multidock is perfect business and education organizations who need to charge and sync multiple iPads.
This modular system allows you to charge and sync up to 10 iPads which can be expanded 3 x systems allowing up to 30 iPads to charge and sync off one computer. Each bay has its own shut off when the iPad is fully charged. The dock also allows iPads in cases to fit so there is no need to remove cases when charging. It also also allow us to lock the dock for secure storage of your iPads.
MultiDock Dimensions:
47.2 cm H
29.9 cm W
23.2 cm D
System Requirements:Â 
Macintosh OS X v10.5.8 or later
USB 2.0
iTunes 9.0 or later (free download)
While it is designed for iPads it also can accommodate iPhones and iPods.
To get more details o Multidock for iPad  contact Team Digital