Epson Weekend Workshop Feb 23rd
10:00 to 12:30pm True Colour 1 — Intro to Colour Management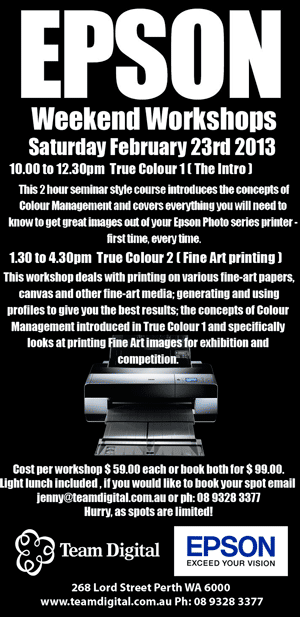 This 2 ½ hour seminar introduces the concepts of Colour Management and covers everything you will need to know to get great images out of your Epson Photo series printer, first time, every time.
1:30 to 4:30pm True Colour 2 — Fine Art printing
This workshop deals with printing on various fine-art papers, canvas and other fine-art media; generating and using profiles to give you the best results; further develops the concepts of Colour Management introduced in True Colour 1 and specifically looks at printing Fine Art images for exhibition and competition.
This what people are saying about this course
thank you very much for the invitation to this workshop. I must say it was most interesting and useful. I enjoyed the presenters and of course the material presented. Most impressive and useful mostly due to the generosity of the presenters in sharing their ways of working and the insights they have into those areas which most of us amateurs' in printing do not pay sufficient attention to or do not understand.
Thank you all so much from all of us from Camera House .We all enjoyed the course very much and learned lots. Could we please be kept informed on future courses :
Cost per workshop $ 59.00 each or book both for $ 99.00. Light lunch included
Contact us direct on 08 9328 3377 or email jenny@teamdigital.com.au to book your place