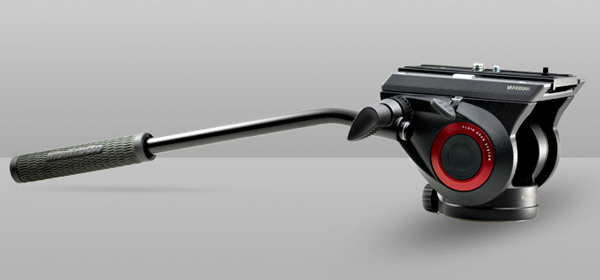 Introducing the Manfrotto 500 Fluid Video Head
This entry level head ensures smooth shots and fine control with up to 5kg of equipment. It's the most compact head in Manfrotto's successful Bridging Technology range, and it also replaces the Manfrotto 701HDV video head.
Beautifully smooth shots
The 500 has professional fluid cartridges on both pan and tilt axes to ensure that every camera movement is smooth, controlled and precise.
Better camera support and balance thanks to the Bridging Technology and structure
Manfrotto's Bridging Technology gives the 500 a great advantage: a wider platform for HDSLR bodies, and more sliding plate travel for balancing the latest cameras used with interchangeable lenses.
Faster, easier and safer to use
The new side lock system allows the camera and sliding QR plate to click quickly into the head from above, instead of needing to be aligned and slide in from the back. No secondary safety lock is necessary. The side lock system also makes it quicker and simpler to lift the camera out of the head from above.
The 500 has a pre-set counterbalance of 2.4kg, but is able to support equipment of up to 5kg.
Manfrotto look to be on another winner with the 500 head and with a starting RRP of $255.00 it looks like great value as well.
Here a video of it in action