Funny name – great product. Kinotehnik make high-end viewing hoods for DSLR cameras, without the high-end price.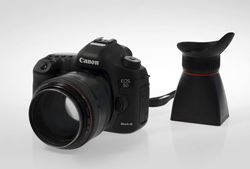 LCDVF turns your video-enabled DSLR LCD screen into a huge electronic viewfinder for precise image evaluation. In the heart of the LCDVF is an achromatic lens pair that consists of two optical components vacuum-cemented together to form an achromatic doublet, which is computer optimized to correct for on-axis spherical and chromatic aberrations. Similar quality of optics is rarely to be seen in even professional broadcast equipment.
The mounting system couldn't be more simple – no need for elastic bands, special screw-in mount or hotshoe mounted plastic gadgets. The LCDVFÂ perfect mounting option uses a universal magnetic interface that allows rapid mounting and demounting without any wear and tear.
All you need to do is apply the adhesive-covered ultra-sleek metal frame to your camera body and from there on, it's click-on, click-off: simple and safe.
And for D800 users it's even more simple – the metal frame is not glued on, but is housed in a plastic clip-on frame that attaches to the camera in the exact same way as its original screen protector.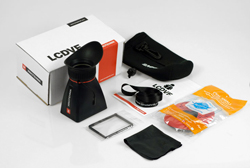 Did we mention that it has a magnification factor of 220% unlike other hoods on the market which only have 100%. So whether you are shooting video or checking critical focus on a image, the Kinotehnik LCDVF has you covered.
Let's hear what Philip Bloom had to say about Kinotehnik LCDVF.
" It's a bit more than the Hoodman Hoodloupe but SO much better."
"It's WAYYYYYYYY better than Hoodman. Like chalk and cheese!!!"
The Kinotehnik LCDVF starts from $ 135 incl. GST
Key LCDVF Features:
2 Year Warranty
Magnification of up to 220%
AR coated and optically corrected lens with 40mm clear aperture
Robust and durable: no moving parts
Splash and dust proof
180 degrees flipping design allows instant left or right eye usage
Universal magnetic mounting interface allows rapid mounting and demounting without any wear and tear
Allows the use of battery and wireless grip and all other original accessories
Flat mounting interface allows easy cleaning of the LCD screen
Spontaneously transform your video enabled DSLR into a discreet handheld video camera
Lets you shoot photos and video in direct sunlight
Stabilises camera when shooting video handheld
Aids on-the-fly focusing