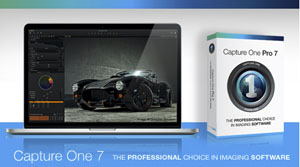 The best Raw Convertor available is now only $ 255.00 inc gst strictly limited time (22/11/13 )
Capture One 7 Pro
Stunning out-of-the-box image quality and powerful photo management.
Capture One Pro 7 Software – A Professional capture solution for professional photographers.
Built on the world's best raw processing engine, Capture One Pro 7 is the professional choice in imaging software. It gives photographers the highly responsive, precision tools they need to create stunning out-­of-­the-­box images from leading high-­end cameras. With a fast and intuitive workflow, it can be customized to fit unique project requirements.
Use your iPad, iPhone and iPod Touch to wirelessly view your images while you shoot. You can even remotely trigger your camera without touching the camera or computer using the Camera Control add-on.
Think of it as your digital assistant, allowing you to focus on capturing your vision. With its image quality, reliability and speed, it gives you peace of mind and provides you with an array of powerful tools allowing freedom to create.
* Capture Your Vision
* Comprehensive Digital Asset Management
* The Freedom to Create
* Showcase Your Creativity
* An Image Quality Revolution
* A Quantum Leap in Productivity