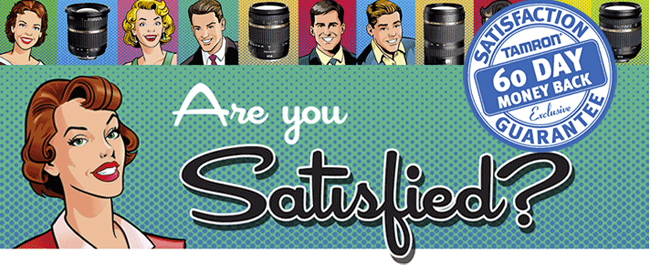 If you've bought any new Tamron lens between 1st November and 31st December 2013, register for our 60 Day Money Back Satisfaction Guarantee by filling in this form. If you're not 100% satisfied with your Tamron for any reason, return it to us within 60 days – and we'll give you a full refund!*
Team Digital stock the range of Pro lenses offered by Tamron – call in and check them out for yourself.
This what DXO had to say about the Tamron 24-70 F2.8
Tamron SP 24-70mm f/2.8 Di VC USD: A 3rd party option that offers great value for money.
Boasting great features, a solid build and most importantly top image quality, the Tamron SP 24-70mm f/2.8 Di VC USD is an excellent 3rd party lens for Nikon.
A DxOMark Overall Score of 29 ranks the Tamron 1st for image quality on professional standard zooms, just pushing the own brand Nikon 24-70mm f/2.8G ED into second with 28 points, and is well ahead of the Sigma 24-70mm f/2.8 IF EX DG HSM with 23.
The Tamron offers better sharpness overall, scoring 17 P-Mpix, compared to 15 P-Mpix for the Nikon, good performance at f/2.8 and boasts significantly better chromatic aberration results, too.
Here's the link to the details of the 60 Day Money Back Satisfaction Guarantee