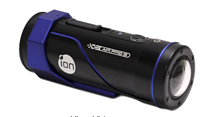 Team Digital has been selling the ION actions cameras for some time now. Great little action camera that doesn't require any housing , robust and produces great footage.
Now ION have announced the ION Air Pro 3 , has some great in features over the previous versions.
1)It now can dive down to 15m as is without specialist housings.
2) Some fantastic new glass on the front 16mm F2.8 fog free with 160degree angle of view.
3)Behind the news lens is 12 Meg pixel CMOS sensor that has great low light capabilities.
4) The Pro 3 let us shoot full HD at 30fps or 60fps and if you lower the res you shoot up to 120fps.
5) 12 Megapixel stills with a high speed burst of 10 shots. Also time lapse capabilities with up 60 sec intervals.
6) Air Pro 3 also includes 3.5mm audio-in jack, enabling use of accessory microphones for optimum audio quality
You still have full control over you ION via the clever Andriod and iOS app.