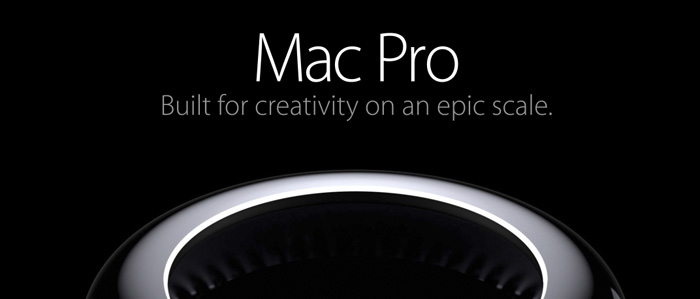 The New Mac Pro has arrived , now available
The 2013 Mac Pro is the professional desktop computer reinvented from the inside out. Designed around an innovative unified thermal core, Mac Pro features the latest Intel Xeon processors with up to 12 cores, dual workstation-class GPUs, six Thunderbolt 2 ports, PCIe-based flash storage and ultrafast ECC memory. Packing amazing performance in a stunning new design, the all-new Mac Pro is coming in December.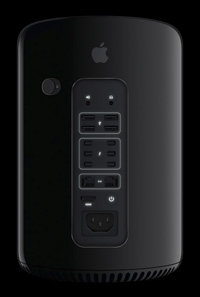 Why a Mac Pro for Pro Photography?
Having all this computer power available sounds great, but why would a pro photographer or graphic designer use such a powerful computer?  Perhaps the simple answer is: productivity.  But how would using a 2013 Mac Pro actually make a difference to a typical pro-photographic workflow? Perhaps your new workflow could look more like this…
Back from the Shoot
Instead of returning from a shoot and dreading the wait loading all your images into your system imagine connecting your MacBook Pro with Retina display and PCIe SSD to your 2013 Mac Pro with 10Gb/s thunderbolt connection.  That means you'd be copying at about 1GB per second!  So a 50GB shoot could be on your system in under a minute.
Editing at the studio
Once in your computer, the powerful Intel Xeon E5 processors and AMD FirePro GPUs speeds your library import, white balance, edits, filters and effects.  The dual workstation-class GPUs means that panning and zooming your photos will be faster than ever before. When in you favourite photo edition software – enjoy professional performance there to.  For a taste of the performance of the new Mac Pro Apple tested graphics performance of the new Mac Pro compared to the previous generation 12-core Mac Pro, using  as an example of graphics editing software. The results were that library importing up to 90% faster and TIFF exporting up to 50% faster.
Pixelmator.
See the real colours
With the new Mac Pro and powerful multiple-display support in OS X Mavericks, you can work with an image full screen on one display while you work with your photo browser on another. Connect an Eizo DisplayPort equipped display and edit your your images blazingly fast with no compromise colour accuracy.  Alternatively, for even more pixels, connect a 4K display — and see your photos in more detail than ever before.
Just the Filing and then I'm Finished
Archive storage and backup would become a breeze with the next-generation peripherals connected at next-generation speeds. The Six Thunderbolt 2 ports each give you a superfast 20Gb/s connection to superfast storage, from portable drives ideal for use in the field to high-capacity RAID arrays. USB 3 provides fast connections to cameras and media readers.
How can I get first in line?
Starting from $3,999 the 2013 Mac Pro base configuration would be and ideal choice for most photographic applications.  Speak to any one of the staff at Team Digital now to organise getting the right mix of software, peripherals and accessories for your situation.  Team Digital has the technology skills to ensure your new system is supplied, installed and humming.  Team Digital are taking orders  now.
2013 Mac Pro – Base Configuration A$ 3,999.00
Quad-Core and Dual GPU

3.7GHz Quad-Core Intel Xeon E5 processor

12GB 1866MHz DDR3 ECC memory

Dual AMD FirePro D300 with 2GB GDDR5 VRAM each

256GB PCIe-based flash storage