Elinchrom have just announced the arrival of their most advanced flash system in the companies 25 year history. The ELC Pro-HD Compact 500/1000 flash heads. These units are all Swiss designed and assembled at Elinchrom HQ in Switzerland.
Recycling times are lightning fast (0.6s / 1.2s to full power, ELC 500w / ELC 1000w) while Swiss precision guarantees consistency of power output and
colour temperature, shot after shot. Furthermore the super fast flash durations (up to 1/5000s / 1/5260s, t0.5, ELC 500 / ELC 1000) enable you to freeze
motion like never before.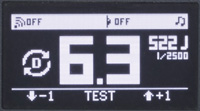 The ELC is the first unit to incorporate an OLED screen that displays every control for the most professional user experience. As well as Elinchrom's stop based power scale, you will now be able to see the power in Joules, flash durations and many other settings. A jog wheel provides easy navigation of the new menu.
New Shooting Modes
The ELC features three exciting new shooting modes that will literally change the way you create
Sequence Mode -Allows you to sequentially trigger up to 20 ELC's, in bursts or as a continuous cycle, to utilize the high frame rate of your camera.
Delayed Mode – Provides the option of first or second curtain sync and everything in-between, plus predictive synchronization within a short sequence.
Strobo Mode – Enables you to take a picture with stroboscopic effects within a single frame.
Heres what photographers are saying about the ELC Pro-HD
"The new ELCs make shooting motion like shooting with constant light but now with the freezing power of strobes. It's awesome to shoot at 5fps and still run out of buffer in the camera before the strobes do. They rock."
Frank Doorhof – www.frankdoorhof.com
"Using the ELC's I'm thinking creative, running free from all previous technical boundaries. The new ELC is a step forward on so many levels, it's difficult to say which feature I liked best. I want them! I need them!"
Kieron Nevison – www.photonevison.com
"As soon as I tested the heads in the real world I can easily say, test it and you will adopt it! Intuitive to use, very fast, robust."
Anoush Abrar – www.anoushabrar.com
See the new ELC in Action

Coming soon to Team Digital