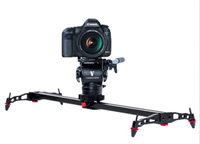 Varavon Slidecam Lite have just arrived at Team Digital. This is the best compact lightweight slider we have come across. Did we mention that they are really well priced, starting from $ 310.00.
The Varavon Slide Cam Lite slider with three ball-bearing rollers for smooth linear camera movements. The track features removable, height-adjustable legs and multiple 1/4 or 3/8″ mounting points for use with one or more tripods. In addition, the rails are chrome plated to resist rust. The carriage is tension-adjustable and features a brake, a 3/8″ tie down screw and a bubble level.
Here it is in action
Slidecam lite from VARAVON on Vimeo.