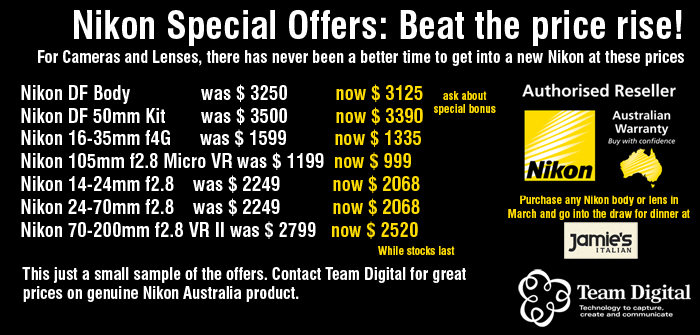 Beat the price rise and win a chance to win a dinner at Jamie Oliver's "Jamie's Italian" restaurant in Perth. I had the pleasure of having a wonderful meal there at the beginning of the year so I can highly recommend it.
Purchase any Nikon body or lens and you go into the draw for a $200 voucher for Jamie Oliver's Perth restaurant. Nikon have informed us that there will be a price increase as of the 1st April, so if you are thinking about getting into a new Nikon body or lens then this is the perfect time. Don't forget about the special bonus packs on the Nikon DF.
Check out these great prices, which are valid until the end of the month.
Nikon DF Body                             was $ 3250          now $ 3125   (ask about special bonus)
Nikon DF 50mm Kit                    was $ 3500         now $ 3390
Nikon 16-35mm f4G                    was $ 1599          now $ 1335
Nikon 105mm f2.8 Micro VR     was $ 1199          now $ 999
Nikon 14-24mm f2.8                    was $ 2249         now $ 2068
Nikon 24-70mm f2.8                   was $ 2249         now $ 2068
Nikon 70-200mm f2.8 VR II     was $ 2799          now $ 2520
This just a small sample of the offers. Contact Team Digital for great prices on genuine Nikon Australia product.