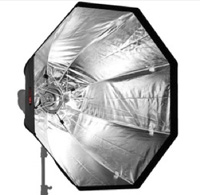 The Octagonal Umbrella Soft Box is a large lighting modifier providing a soft, even light over your subject. The octagon soft box adds big beautiful catch lights – great for high quality portrait work.
Compared to rectangular and square counterparts, this octagonal soft box diffuses light to a circular pattern and thus spread out light more evenly when you need to light up a large area. When making close-up portraits, the eye-catch light it produces is rounder than the rectangular and square soft boxes.
This professional grade soft box is made with high quality reflective and diffusion materials. The interior is made of prograde omni-bounce silver reflective fabric with a durable black backing. It also features an interior white baffle to provide softer light. They are super simple to setup, taking as little as 10 seconds. The supporting struts and locking mechanism are integrated into the body of the box, meaning you'll never lose or break the supporting rods.
Never before has it been so easy and viable to take larger modifiers on location or into shoots where time is of the essence.
These Octo are available in 90cm up to 150cm and prices start from $179 to $229 for the 150cm Octo. You can also get them in Elinchrom and Bowens mounts. You can check the full range at Team Digitals showroom studio.