The En-350 is a very compact and powerful battery pack.  Its compact and lightweight enough to be carried around on your shoulder ( weighing just under 2.0kg) . The unit also comes with a stand attachment which allows us the attach the pack to any standard light stand which mean you can pick up the stand, light and pack together. And if you more capacity you can simply get an extra battery. Great inexpensive way of getting studio flash where ever and when ever you need it. Perfect for turning your Elinchrom D-Lites or BRX flashes into a location kit.
Our thanks to Chris for testing the EN-350 pack heres his results.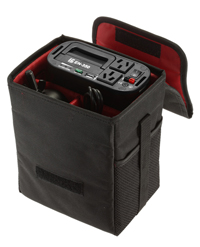 700+ individual firings on D-Lite RX4 single head
Initial charge, 2 second recharge, after 200 firing generally about 2 seconds but starting to fall back to 3 seconds, after 450, about 5 seconds, after 600 6 seconds,
Not suitable for modelling lamp use unless it was a low power LED system. System pulses about once every 2.5 seconds with noticeable power output drop.
Charge time approx 3.5 hours.
Issues / quirks – the Battery indicator is not reliable until you have fired a test shot and observed battery indicator. It likes to show 3 bars for as long as possible and after about 2 seconds will climb back from 1 or 2 to three on idle.
Test rig
RX4 to Nikon D800 fired using timer from CamRanger in 100 shot and 10 shot sequences.
Consistent output read throughout test when measured in Sekonic light meter and viewing consistency of histogram in both output and colour.

Technical Specification
• Continuous output: 200W
• Peak power: 600W
• Input voltage range: 11-15.5V
• Output voltage/Frequency: AC-210-230V/60Hz
• USB output voltage/Current: DC5V/0.5A
• Output waveform: Pure sine wave
• Operating Temperature range: 0-40 degree
• Nominal capacity of the battery: Li-polymer 14.8V 8800mAh
• Charging period: 3-4h
• Fuse: 30A
• Dimensions(mm): 156(L)x72(W)x215(H)• Net weigth: 1.96Kg
• Only 3 flat pin plug (Australia type)