BlackRapid put simply will be the most comfortable camera strap you will ever own. They are ingeniously designed ergonomic, the straps that can be used for suspending a single camera – or multiple cameras – by connecting to the tripod mount of the camera or lens. Once connected, the camera hangs upside down, resting securely at your side or in the small of your back, with the lens pointing behind you.
BlackRapid is ideal for photographers who need to have their cameras at the ready at all times. Wearable for long periods of time and suiting the demands of a professional environment, BlackRapid straps allow the photographer movement and functionality with all their equipment.

The BlackRapid range incorporates variations of wearable strap systems and add-on accessories for memory cards, phones, etc. so the photographer is able to customise a system depending on what they are shooting with at the time.
For August and Sept Team Digital have a huge 20% Discount off the whole range of BlackRapid
Wrist Strap
Utilizing the same ConnectR found on the R-Strap, you can be sure that your camera is safe and close at hand.
FR-3 and CR2 Wrist strap  RRP $ 35.00 now $ 28.00

Classic (RS-4)
The BlackRapid R-Strap with a Classic look. A single, low-profile pocket for memory cards that will make sure you stay in the game.
RS-4 Classic Strap with Connect R2 Fasten R3 RRP $ 69.95 now $ 55.95


Double (DR-1)
The Double is the standard for the photographer who wants a secure way to access two cameras at the same time. It can be used as a single and is MODs compatible. DR1 Double Camera  Strap with 2 x  R-3 Fasten RRP $ 185.50 now $ 148.40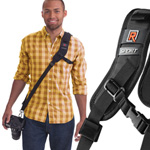 Sport (RSS-1)

Perfect for the active photographers as the name suggests, with its under arm safety tether it make sure your camera is safe. Comes in left and right hand versions.  Sport Camera strap with 1 x R-3 Fasten Standard  RRP $ 89.95 now $ 71.95


Yeti
BlackRapid's one-shoulder solution for carrying two camera bodies with ease.
Yeti Dual Camera strap with 2 x R-3 Fasten Standard and Slim RRP $ 140.00 now $ 112.00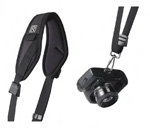 Kickstrap (RS2SW)

Optimized for Women, the Kick with an ergonomic curve built into the pad and the ablity to customize with BlackRapid accessories.
Kick Camera strap with 1 x R-3 Fasten Standard  RRP $ 79.95 now $ 63.95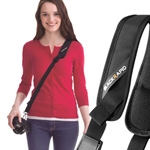 Metro CS (RS10)

This strap is designed for the lighter mirrorless cameras. Can be used for left or right handed use.
Metro strap with 1 x R-3 Fasten Standard RRP $ 55.95 now $ 44.75

If you don't see the BlackRapid strap or accessory listed give Team Digital a call for a super price.