Team Digital is now stocking the range of Jinbei EF Daylight Continuous LED heads. These lights are perfect for stills and video.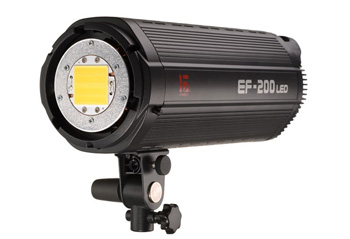 The EF-100/200 Sun Light Continuous LED light from Jinbei is a truly innovative and unique lighting product for both video and still photography shooters. Photographers will be instantly familiar with the shape of the EF-100/200 as it carries the form of a traditional monobloc studio flash. The light modifier mounting system will be just as familiar as the EF-100/200 uses the very common , Bowens S type, 3 point mounting hub. This is where Jinbei really show that they are innovators in their industry as equipping their light with this mount opens up literally thousands of options for shaping the light that the EF-100 produces. Aside from genuine Bowens modifiers, many 3rd party light shaping products use this mount, as do Jinbei themselves with their amazing K-Series quick folding soft boxes. This means you can mount everything from beauty dishes, to soft boxes to reflectors and much more.
One of the most impressive things about Jinbei's EF-100/200 Sun Light is its output.
Drawing only 100W/, the EF-100 puts out an immense amount of 5600k light, equivalent to a 1000W/2000W tungsten light. This makes running the unit on location extremely viable because it will place far less strain on your generator or battery systems. The EF-100 Sun Light has a much lower operating and output temperature when compared to tungsten or halogen lights of a similar output too. This is mainly thanks to the high tech single SMD LED chip used to produce the light. As well as this, the EF-100 features fan cooling and large cooling fins around the chip surface to help dissipate the heat that is produced. The EF-200 is even quieter which is perfect for video. All of this clever design adds up to a product that's rated to provide over 100,000 hours of service life. The mounting hardware for the light itself is integrated into the main body of the light and features a large, easy to grab adjustable handle to make fastening or loosening the light easy in any scenario. An umbrella shaft receiver also makes up part of the mounting system to provide you with just another way to shape your light.