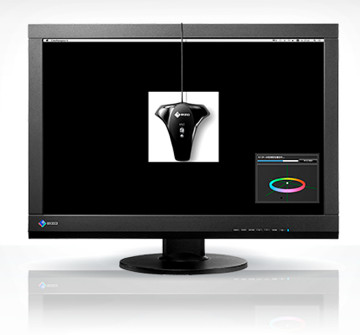 Eizo Coloredge CS240
We can finally talk about Eizo's new low-cost ColorEdge monitor. Can't afford an Eizo ColorEdge monitor? Think again.  Ask one of Team Digital's trained colour experts about your colour management requirements and make your editing life that much easier. Pricing will be confirmed within the next few days and stock should be arriving at Team Digital mid to late September.
The ColorEdge CS240 is backed not only by Team Digital, but a five-year manufacturer's warranty including the LCD panel. This is at least two years more than the warranty of most monitors, to ensure a long service life and low total cost of ownership.
Made for photographers and designers from hobbyist on up, the CS240 delivers the hardware and software essentials needed in a graphics monitor. These include a wide color gamut, brightness uniformity, and EIZO's ColorNavigator 6 calibration software with Mac/Windows compatibility and support for a wide range of calibration devices.
The calibration software available with most graphics monitors is usually third-party software with limited support for operating systems and calibration devices. In addition, the software might only let you create one or two profiles which is restricting if you work in more than one color space or if you work on multiple tasks, each with their own requirements.
The ColorEdge CS240 comes bundled with EIZO's own ColorNavigator 6 calibration software. Because ColorNavigator is developed in-house, EIZO has ensured it is compatible with Mac, Windows, and Linux OSes and works with a wide range of measurement devices from X-Rite, DataColor, and other manufacturers. For simplicity, preset adjustment targets are provided for photography, web design, and printing. More advanced users can set their own values for brightness, white point, and gamma, and create their own target profiles. Calibration only takes a few minutes to complete.
ColorNavigator 6 offers several advanced functions such as measuring the white of the paper to be used for printing for better screen-to-print matching and profile validation for verifying calibration results.
99% of the Adobe RGB Color Space

An IPS panel with a wide color gamut reproduces 99% of the Adobe RGB color space so images shot in RAW can be converted to Adobe RGB or images shot in Adobe RGB will be displayed correctly. The colors seen in photos of vibrant blue skies and lush green forests will be reproduced faithfully.
Stable Image Display Free from Environmental Influence
EIZO-Developed ASIC at the Core
All ColorEdge models come with an ASIC (application specific integrated circuit) developed by EIZO to meet the needs of the graphics market. The ASIC has its own algorithms used in high-precision color processing to produce smooth color tones.
Brightness and Color Uniformity with DUE
Fluctuations in brightness and chromaticity on different parts of the screen are a common trait of LCD monitors. To counteract this, the monitor incorporates EIZO's patented digital uniformity equalizer (DUE) technology.
Predictable Color You Can Depend on
Individually Adjusted at the Factory
The gamma level for each ColorEdge monitor is adjusted at the factory. This is accomplished by measuring the R, G, and B gamma values from 0 – 255, then using the monitor's 16-bit look-up table (LUT) to select the 256 most appropriate tones to achieve the desired value.
10-Bit Simultaneous Display
Using the DisplayPort input, the monitor offers 10-bit simultaneous color display* from a 16-bit look-up table which means it can show more than one billion colors simultaneously. This is 64 times as many colors as you get with 8-bit display which results in even smoother color gradations and reduced Delta-E between two adjacent colors.
*A graphics board and software which support 10-bit output are also necessary for 10-bi display.
Comfort and Convenience
Multiple Inputs
DisplayPort, HDMI, and DVI-I inputs are included for connecting to various types of graphics boards, The HDMI input also offers direct connection with digital cameras. Two USB upstream ports allow two computers to be connected at once so it's not necessary to reconnect the USB cable when using the ColorNavigator software and switching between the two computers.
Smooth Display of Video
For video editing or post production work, an overdrive circuit is included to reduce gray-to-gray response time to 7.7 ms and ensure that moving images look clean and sharp with a minimum of ghosting.
LED Backlight with Flicker-Free Display
An LED backlight reduces power consumption to just 27 watts during typical operation. When using the monitor at a low brightness setting, the ColorEdge CS240 utilizes brightness modulation technology for flicker-free image display to help prevent eye fatigue.