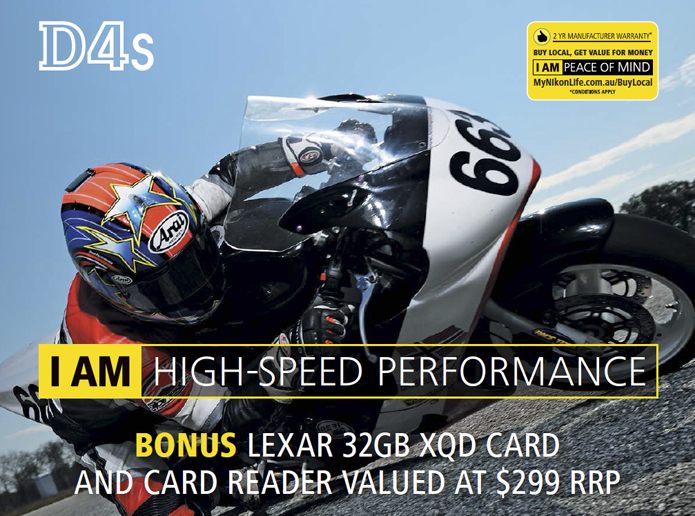 I AM THE ULTIMATE. Purchase a Nikon D4S from Team Digital between 22nd September and 31st December 2014 and receive a bonus Lexar 32GB XQD card and card reader via redemption. Terms and conditions apply.
For more information visit MyNikonLife.com.au/D4Spromotion

Nikon D4S is an unparalleled state-of-the-art camera perfected to meet professional demands. It has an incredible FX-format CMOS sensor with 16.2 effective megapixels and EXPEED 4 image-processing engine that empowers you to capture full-frame images with superior quality that's second to none. The D4S possesses a superior ISO range of 100 to 25,600, so even under extreme lighting conditions performance remains assured and effortless. Enjoy the thrill of 11 frames per second with full autofocus and auto exposure, coupled with improved tracking of moving subjects, for outstanding results every time. Redesigned, refined and remarkable, the D4S is the ultimate choice for those who would never compromise.
Experience the power of perfection
Boasting 16.2 effective megapixels with an ISO sensitivity range from 100 to 25,600 (expandable from 50 to 409,600), the new EXPEED 4 image-processing engine complements the FX-format CMOS sensor to create images with stunning sharpness and enhanced depth. Meanwhile, its 91K-pixel RGB sensor complements the Advanced Scene Recognition system to deliver exceptional focusing in every frame.
Lightning quick shots
Every detail of the D4S is engineered towards perfection. This supercharged dynamo is able to shoot at high-speed continuously at approximately 11 frames per second (fps) with autofocus (AF) and auto exposure (AE) tracking for up to 200 shots, letting you capture all your adrenaline-fueled action seamlessly. With a start-up time of just 0.12 seconds and a shutter-release time lag of 0.042 seconds, nothing escapes the D4S.
Exceptional focusing and tracking
Expect sharp and clear pictures for all your action sequences. The D4S is designed with a plethora of AF options to deliver high-performance autofocusing  even under extreme conditions. Equipped with 51 focus points, it is capable of tracking the subject throughout the frame,  letting you refocus and lock on your subject quickly, even if the focus was initially on the background.
The new Group-area AF mode reduces background focusing to bring you greater focusing accuracy every time. The subject can be detected swiftly due to the 15 cross-type focus points at the centre of the frame. It also supports maximum apertures faster than f/8 for greater flexibility. Even when using 1.4× or 1.7× teleconverters, focusing becomes elementary so you can focus on capturing the perfect shot.
A body immaculately refined
The lightweight and rugged body of the Nikon D4S is meticulously crafted from magnesium alloy, with comprehensive sealing against dust and water drops. It also possesses a better, deeper grip with more tactile buttons for improved operability and comfortable handling during shooting.
Crystal clear,
personalised
display
The Nikon D4S now has a more accessible glass pentaprism viewfinder with 100% frame coverage, coupled with an improved information display. Information is coherent and clearly laid out, with less cluttered icons. The D4S is also equipped with a 3.2-inch, approximately 921k-dot wide viewing angle TFT LCD monitor designed to suppress internal reflections and provide lucid information. Equally amazing are the newly tweaked display characteristics. You can customise its colours and marvel at the colour reproduction as it becomes even more accurate and vibrant.
Movements
in
pin-point precision
Excellence has been redefined. The D4S uses a recording format of 60/50p that delivers fluid subject movement and smooth changes in exposure, even when the brightness of the scene changes dramatically. Choose from three image area options – FX-based movie format, DX-based movie format, and the 1920 x 1080 crop. The adjustable recording quality and sound level, along with frequency range (in vocal or wide) provide you with greater versatility during recording to satisfy the perfectionist in you.
In addition, the HDMI support allows for quick viewing and higher image quality during playback. For clearer audio, wind noise can be reduced with the built-in microphone. Auto ISO control is also possible when using 'M' mode, allowing the adjustment of maximum ISO sensitivity settings for movie recording.
Dynamic workflow
The White Balance (WB) achieves greater accuracy and more vivid skin tones under a variety of lighting conditions thanks to an improved algorithm, bringing you greater efficiency when you're working on-site. The D4S also features a spot white balance option that enables you to preset white balance during live view, from even a very small white or gray portion of the frame.