SIGMA Corporation unveiled a new lens belonging to the Sport line – Sigma 150-600mm DG OS HSM F5-6.3. It is a durable and mobile masterpiece of telephoto lenses with high performance and excellent workmanship. This professional telephoto lens with very sharp images throughout the zoom range, meet the needs of any photographer. –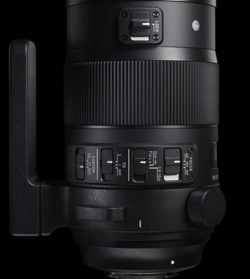 Its main advantages include enhanced resistance to work in dust and precipitation, lock the front barrel at any focal length, an hydrophobic layer on the outer glass element, compatibility with the new teleconverters from the Sigma Global Vision line, new optical stabilization system supported by an advanced accelerometer, ergonomic arrangement of switches and rings, optimized AF drive, special lenses to minimize any aberrations, and the whole enclosed in a durable and tasteful new housing. –
Precision technologies can capture the desired frame.
The lens incorporates a precise accelerometer to support the operation of image stabilization. Stabilization in mode 1 is for general shooting. Mode 1 works with all vibration sensors. To capture subjects in motion (

ie

.

tracking

an aircraft or a running animal), enter mode 2. In case of vertical or horizontal frames, the accelerometer detects the position of the lens and properly organizes the work of individual sensors.
New AF motor – the lens incorporates a new type of motor AF, quieter and faster, called "Optimized AF". Compared to previous designs, we were able to improve the efficiency of the engine by 5%.
Compatibility with the Sigma USB Dock
The lens is compatible with the Sigma USB Dock, so you can personalize, for your own expectations, the following: optical stabilization, autofocus, and focusing distance.
The lens is compatible with the new 1.4x and 2.0x teleconverters from the Sigma Global Vision line. AF is provided to aperture f/8.