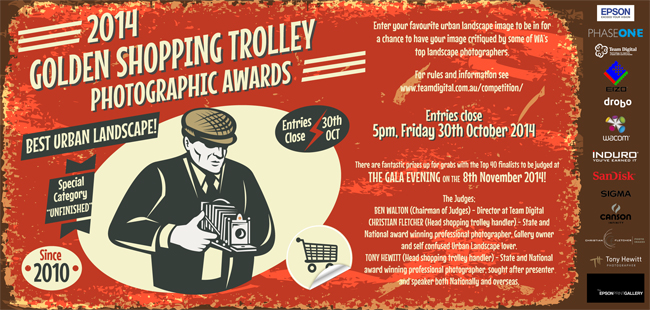 Drum roll please! Here are your 40 finalist for this years Golden Shopping Trolley Awards.
Thanks to everyone that entered, it's been yet another great year with photographers embracing the Urban Landscape genre.
If your name isn't on the list, there is still a chance that you could make it through to the final judging. The judges have been discussing a number of images that haven't been listed in the final forty. They've asked if we could expand the top 40 a little – that's Tony and Christian for you.
Tina Urie
Olivia Vincent
Aaron Dowling
Melanie Sinclair
Shirley Milburn
Stuart Westmore
Nathan Wills
Peta-Anne North
Leonard Jannese
Toni Segers
Mark de Cruz
Len Stewart
Kirsten Graham
Cindy Bosveld
Naomi Antenucci
Cindy Buchan
Trish Thomas
Carol Duncan
Jordan Cantelo
Katrina Bartley
Diane Clare
Graeme Ditterich
Nicole Fenwick
Lori Sharkey
Ian Everett
Congratulations again to everyone that entered. We hope that you can make it to the Gala Evening, which is this Saturday, 8th November starting 5.30pm
(If you're wondering why there are only 25 names, it's because some people have multiple images in the final 40)