Three days to go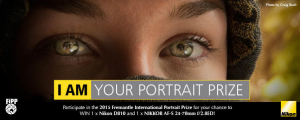 Thanks you for your wonderful support of the 2015 Fremantle International Portrait Prize (FiPP).
We are nearing the pointy end of the entry period with just three days to go (and just three days left of these constant emails from us! Bet you're looking forward to that!)
If you haven't entered yet, now would be a good time to do it!
It's never too late (well, actually that's not quite true is it? It'll be too late in three days time!)
For a $20 investment (per image entered) you have the chance to win our
First Prize of $5,000 (Australian)
Second Prize is a Nikon DSLR camera and Nikkor 24-70mm f2.8 lens (delivered to you by Nikon anywhere in the world), also valued at around $5,000 (AUS). Check out Nikon's wonderful support for FiPP by clicking on the 'I Am Your Portrait Prize' promo below!
Third Prize is a lens all photographers are after, The Sigma f1.4 ART series 50mm lens valued at around $1,000 (AUS)
Fourth – Tenth place-getters will receive $200 (AUS) in cash
AND, you could be part of the FiPP Showcase in Fremantle in October, where the very best 100 or so entries from the competition will be on public display.
AND you'll also get the warm, fuzzy feeling that comes with sharing your images and your talent with the world (FiPP is international you see!)
Competition and prize details, entry portal access and live countdowns to the entry deadline and exhibition opening at www.fipp2015.org
Entries close at 5pm (Western Australian Standard Time – GMT+8) on Friday 21 August 2015.