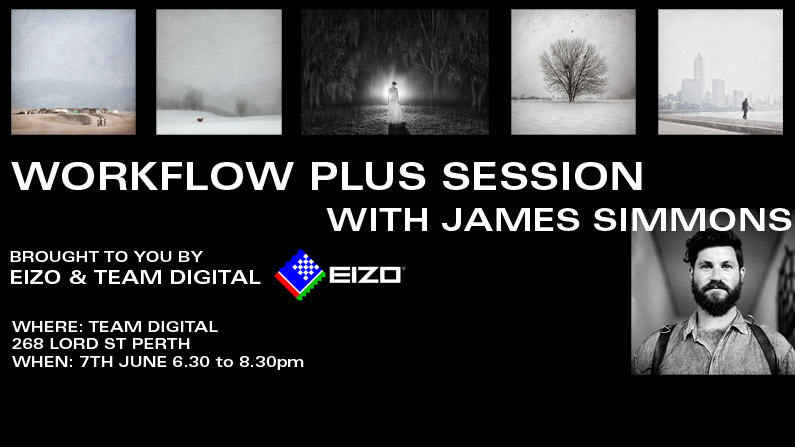 SOLD OUT SORRY  
It's called Workflow Plus because James will be covering far more than just his workflow. He will also be talking about:
Authenticity in art and business
Genuine connection
Personal work and the commercial cross over
There's also a shoot-to-print session with the Pentax 645Z and some new great lighting which will be loads of fun, then onto to editing on an Eizo monitor and printing on an Epson printer.
Lots to get through in two hours, but if anyone can pull it off, it's James. This promises to a session you won't want to miss.
James is one WA's most awarded photographers. For those of you that don't know James, here's an insight.

PASSIONATE, CONNECTIVE, JOYFUL, ADVENTUROUS AND ROMANTIC.
If you asked me to describe myself and what I do in five words.
You know when you are just fully enthralled by something, not like a hobby or a pastime activity, like something you are obsessed with, that you can't go a day without thinking about. Pure passion, I'm talking about wake up in the morning thinking about it and going to bed thinking about it. I might have a bit of an addictive personality and a competitive drive, but I'm a country boy at heart. On the surface nothing seems to phase me, but deep down I have a burning desire to create something that can make a difference. A humanist if you will, but one at a time starting with the people around me. If I can make a difference to people in some way, my rationale gives me purpose, direction and the confidence to exist in the foreground where anxiety wants to make me drift to the background.
I get a lot from photography, and connection is the major one. It's my way of being able to connect with the world. The excitement that I get from producing images that people will be able to treasure for years to come almost outweighs the enjoyment from the technical and creative challenge it poses. But most of all, seeing people show their true selves to me in that moment of vulnerability is a real honour to witness as it takes a lot of trust, and knowing I can do that for people is very humbling.
I also love photojournalism. I love telling stories and that is what drew me to wedding photography. Growing up by the beaches of regional Western Australia, traveling around the world twice in search of perfect surf, snow and images, breaking both my arms, having worked in viticulture, stage production, hospitality and mining has all contributed to my love for adventure and love for being adventurous with my photography. Meeting new people has become part of my journey and is an adventure in itself, so I have the utmost respect for people, family and culture.