Spider Holsters : Ok we have say they do look a little weird but they work. This simply takes all the pressure from your shoulders or neck. Another great feature is that you can just attach a tripod quick release plate directly to it, no extra attachment as there is on most quick release plates. The other thing we love is the fact the lens doesn't hang down – it stays in a horizontal position, which means you aren't banging your long lenses when you are getting low angle shots, etc.
We've got to say after having a play for the past 2 weeks the Spider Holster is the most comfortable way of carrying your camera.
Don't just take our word on it, here is Alex Cearns thoughts on the Spider Holster.
Alex Cearns on Spider Holster
Using the Spider Pro camera system has been a game-changer, a back-saver and a quick-shot-maker for me. Photographing animals means I'm constantly on the go, moving around and shooting from a variety of angles and vantage points. I put my body on the line for every shoot, often traversing the edge of rocky cliffs, crawling along arid ground, or kneeling in a boggy swamp for hours on end.
I've always found it difficult to carry a camera body comfortably and effortlessly, and hanging it around my neck proved more painful than practical. Consequently, I would resort to leaving it in my backpack when trekking on wildlife photography assignments, and would regularly be changing lenses in inconvenient locations, and at inopportune moments. Not only did this waste time, it distracted me from the action and created the potential for me to miss vital images.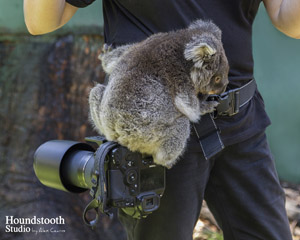 I now pack the Spider Pro Holster for all of my natural light photography trips and it's an absolute dream to use. Knowing where my camera body is without having to think about them means I have a faster reaction time and don't lose valuable seconds untangling straps and bodies.  I can be hands free while moving through any environment, with my camera sitting securely on my hip, enabling me to grab it in an instant thanks to the quick release function. And all that while not taking my eyes off the animal about to become my next photo subject!
The convenience of the Spider Pro holster was what initially piqued my interest, but after consistently using it I have found there's no strain on my body after whole days' shooting and the ease of use and excellent, robust design are added bonuses.
My Spider Pro holster is now a vital piece of my camera kit and wherever I go in the world, it goes too.