Team has finally taken delivery of the new Jinbei HD610 battery powered monoblock. This is an upgrade of the very successful HD600, which we've been selling for some time as one of a variety of solutions for battery powered flashes.. This is not really a review – more of a first-impressions of the Jinbei HD610 and how it compares to other units on the market.
Now new pricing $999.00
After having two days with the Jinbei HD610, we've got to say we're impressed. It's a marked improvement on the Jinbei HD600. The unit looks robust, well balanced, and well styled. The battery system has a solid locking design and the battery has a power indicator which makes it a breeze to see the capacity of your batteries at a glance. The menu system is one of the main things that stood out as it's super simple and very effective. With just three menus it's very easy to navigate your way through all the settings you could need. More on that later.
The Jinbei HD610 has the same feature set you'll see in much more expensive flashes. Let's have a look at these in detail.
Firstly HS Sync. Up to 1/8000, this relatively new way of using flash is seeing a lot photographers creating some amazing images. The first tests we did were on our much-loved Nikon DF, which only goes 1/4000. The flash handles that without an issue. Soon we will test it with our 1DX MKII at 1/8000, which I'm sure wont be an issue. Really simple to get it into HS mode – one menu button and you're away. Remember that this is also 600W/s as opposed to other competitors in the market, so overpowering sunlight should be a lot easier.
Secondly Freeze mode. This gives you a flash duration of 1/19000 – and no, that's not an extra 0. To achieve 1/19000 you have to be at very low power output, which is not different to other units on the market. This will be very handy for freezing action (as the name suggests) in a studio enviroment.
TTL mode. I really don't think it's of much use. We use flash to create drama 95% of the time, not to produce well-lit subjects. I guess if you're really working fast at say a wedding, then it has it's place. Most of the time I would think that you want to be in full control. That being said, the TTL mode worked very well on the tests we did with the Nikon DF.
So in summary on the features front it has the same feature set as flashes twice, even three times more expenisive than the Jinbei HD610.
Okay, now let's talk about the menu. It's simple and extremely functional. The rear of the flash is taken up with a huge LCD that may not win too many awards for graphic design but is great to use. The power output values are displayed  in a huge font so it makes it easy to see from a distance – also good if you happen to be visually challenged as it won't be a problem to see what power setting you've got on this screen.
There are only three menus & they're super simple. Here's an example: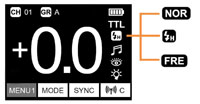 Menu 1
Mode: M (Manual) and TTL
Sync: HS, Freeze, and Normal
Wireless: C (Canon TTL), N (Nikon TTL), A6 (TR-A6 and TRS-V Transmitter Units), & TRS (TRS Transmitter Unit).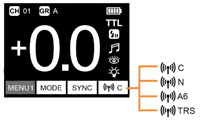 Menu 2
CH: Channel. Upto 15 channels to chose from (00 to 15).
GR: Group. 6 groups can be chosen – A / B / C / D / E / F.
Menu 3
Beep: Really need more options on this feature. It's nice to hear the reassuring beep when a flash is ready to fire again, but I don't like hearing the same beep every time I change a tenth of a stop. Sounds like a mobile with a very bad ring tone if you have to vary the power by any amount.
Cell: Trigger from another flash (also known as Optical Slave).
Modelling light: In this mode we can select Proportional and Controlled.
The menu is that simple & just gets it done.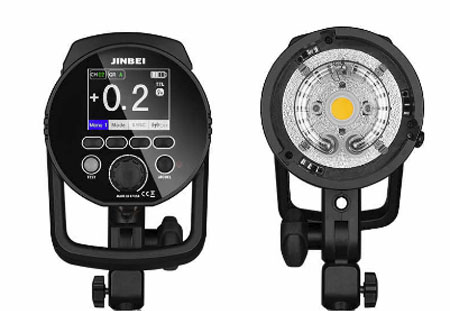 Battery Pack is a 14.8V 6000mAh Lithium-ion battery providing over 450 full-power flashes, and now featuring a built-in power level display. The battery pack is quite compact and solid. We've only run about 300 flashes out of one battery, but I'm told you can get up to 480 full-power flashes. And if that's not enough, grab a spare battery for well under $300. As it stands it practically doubles the amount of flashes out of one battery over it's much more expensive rivals.
The modelling light is an LED which pumps out about 20W. We haven't had a chance to measure the Colour Temp but we're told it's about 3200K. As we were saying, it's easy to turn the modelling lamp on or off, and also to control the power, or have it on Proportional.
One slight negative is the light shaper mounting system, which is very tight. We've spoken to Jinbei and they are looking into it as we speak. Apparently the first protypes were a little loose so in the production units Jinbei might have gone bit too far in the other direction. It has a Bowens S-mount mounting system so finding the exact light shaper or softbox you need won't be an issue. And if you have a bucket load Elinchrom reflectors, softboxes, etc, Team has you covered with a Bowens-to-Elinchrom adaptor.
In conclusion, we believe this flash system will be a real winner for Jinbei. It's features are considerable and with the price coming in under $1200, it's about a third of the cost of some of it's rivals. If you aren't hung up on buying a brand name and you want a full-featured reliable flash then the Jinbei HD610 could be for you. Team Digital have a unit for demonstration, so call in and ask for a demo and see it in action for yourself.
Here's a bit of comparison to some competitor brands:
| | | |
| --- | --- | --- |
| Jinbei HD610 | | Profoto B1 |
| 600WS  | Output | 500WS |
| 6000 mAh | Battery Size | 3000mAh |
| 3 stops +/- TTL | EV control | 2 stops +/- TTL |
| 2.2 Sec at 600WS | Recycle time at full power | 1.9 Sec at 500Ws |
| 9 Stops | Power variation | 9 Stops |
| +/- 150K | Colour Stablity | +/- 150K |
| User Replaceable  | Flash Tube | Non User Replaceable |
| Under $1200 | Cost | Over $3000 |
| Yes $115 | TTL remote |  Yes $569 |
On a closer look at the chart above, we can safely say the Jinbei HD610 wins the most tech spec categories.
More powerful, more flashes per battery (double compared to the B1), more control in TTL mode, more user friendly when it comes to menus and maintenance.
The recycling time on the B1 is slightly better but remember that is at a lower output than the Jinbei HD610.
Cost-wise there is no comparison.
Flash heads: the Jinbei HD610 costs $1195 (compared to $3085 for a B1)
Remote triggers:  $115 (compared to some brands which can go as high as $500)
Battery: Jinbei $269 (compared to $385)
We look forward to doing a full review on the Jinbei HD610 in the near future.