Second Hand Underwater Photography Kit.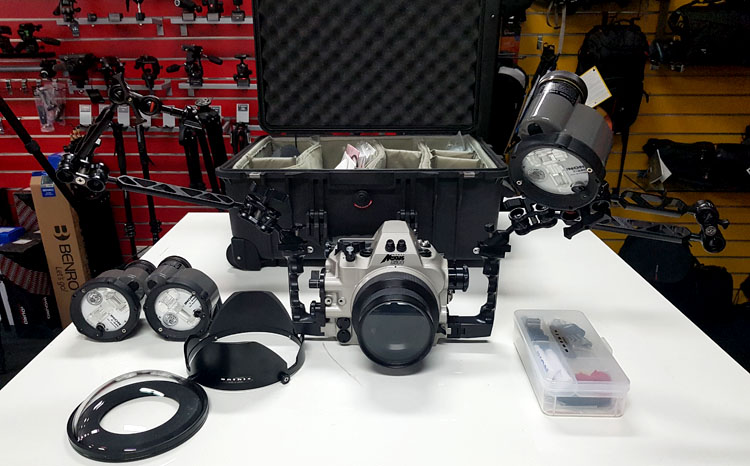 Second Hand Nexus D300 housing for the Nikon D300 series of Digital SLRs is now available. The Nexus housing are some of the best underwater housings in the world and this unit has had very little use.
Comes complete with housing , port, mount, pelican case and Inon Rotateable Optical 45° or Straight Viewfinders
While it is designed for a Nikon D300 it can still be used with a D300s.
This light and compact D300s underwater camera housing is made from marine grade aluminum alloy.
Dimensions are 313mm x 178mm x 131mm (W/H/D). Weight is 4.59 lbs.. The housing is rated to 246 ft/ 75 m.
All for $1890 could be a great way to start your underwater photography journey.
We also have 3 of the best underwater flashes on the market available being sold separately.
Inon Z-240 in new condition. $600 each

Z-240 Type 
High power with Guide Number 24
100 degrees circular beam angle without diffuser. 110 degrees circular beam angle with supplied -0.5/-1.5 diffuser.
Recycle time is minimum "approx. 1.6 sec." at full flash.
Optical / electrical connection compatible.
Precise S-TTL, 24-step External Auto, 13-step Manual and Nikonos TTL for film camera support.
Built-in EV. Controller to fine-tune S-TTL Auto exposure
High-intensity 180 lumen power LED multifunctional, Focus Light with shutter linked auto OFF function.
Next generation wireless TTL.
Fully accommodates with Nikon D700 / D300/ D200 /D90 / D80, which alter number of pre-flash between "once" or "twice"