The Epson Surecolor P5070 is the replacement for the Epson Pro 4900, which is now roughly 6 years old. The new Surecolor P5070 boasts a number of new features that will make it the most advanced A2 printer on the market.
Ok, so what makes it so good?

✓ It still has a huge gamut which is bigger than any of its competitors, meaning we can put more colours on a page.
✓ The Blacks have a higher Dmax than any other A2 printer on the market, which means we get richer blacks on Matt or Photo media.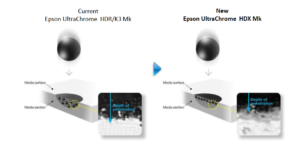 ✓ Improved reliability through new sealing on the printer and new nozzle checking system.
✓ It's the fastest A2 Photo Printer on the market.
✓ Significant Print Permanence Improvements, Featuring completely reformulated pigment technology for improved print permanence, and up to twice the overall print permanence versus our previous generation ink set.
✓ Spindle-less roll media loading with Media Barcode System.
✓ Improved media feeding with support for sheet feed paper up to twice the competition (1.5mm)
✓ Last of all, something we all love – it costs less to purchase and run. With an RRP of $2995 it's sure to be a winner.
We loved the improvement from the Epson Pro 3880 to the P800 and we know that we are going to love the new features on the P5070. This is just a small insight into the Epson Surecolor P5070. We are hoping to have stock in late January when we'll put it through its paces. Stay tuned for a full review.