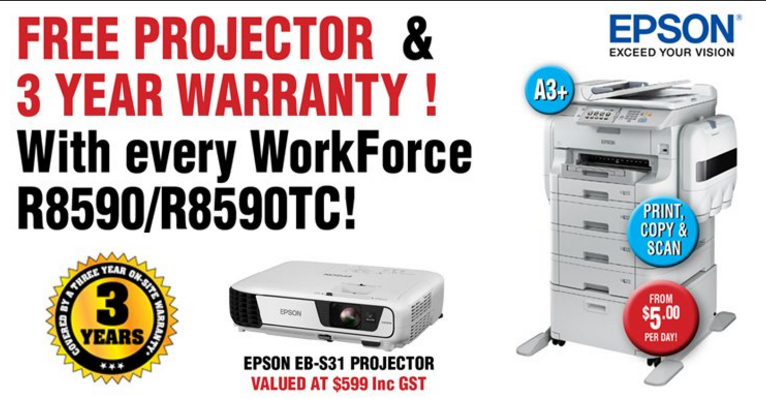 Epson Workforce RIPS Promotion – Free Projector and 3 Years Warranty!
So why an Epson Workforce RIP ?
Most toner based "Click" Charge contracts, if not all, are at least twice the price of what the Epson Workforce RIP can offer.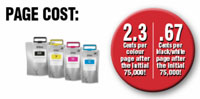 Check out your current contract and see what you are paying. We bet the  Epson Workforce will better at 2.3c per page for colour and .67c for black and white.    And remember these costs are after you run out your first 75,000 pages which ship with the printer.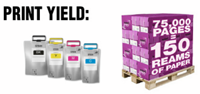 The Epson Workforce literally comes with bags and bags of ink. Enough to print 150 reams of paper. So you aren't changing over toner cartridges all the time. Our ink bags will last up to 10x longer than a laser printer.  And there is no messy toner to get everywhere, just a bag of ink super simple to replace.
The Epson can print on virtually anything at any size including banners up to 1.2m Its good enough to reproduce full colour photographic quality.
If you are in a business that wants to reduce your carbon footprint then the Epson can do that as well. Using 90% less electricity than a laser.  It uses 80% less CO2 than laser as well.
Meet the Epson Workforce family, if you want to know more then contact Team Digital to organize a full demo. We love showing off our new Epson Workforce. And remember, for a limited time you can get a free projector and a 3 year warranty.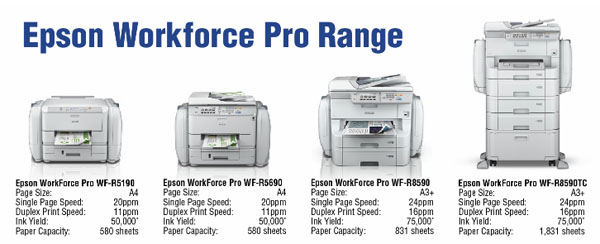 We've got a couple videos going through the Epson check out some of the testimonials. You'll be glad that you did.
Heres the Epson Workforce in action.
Heres some Testimonials